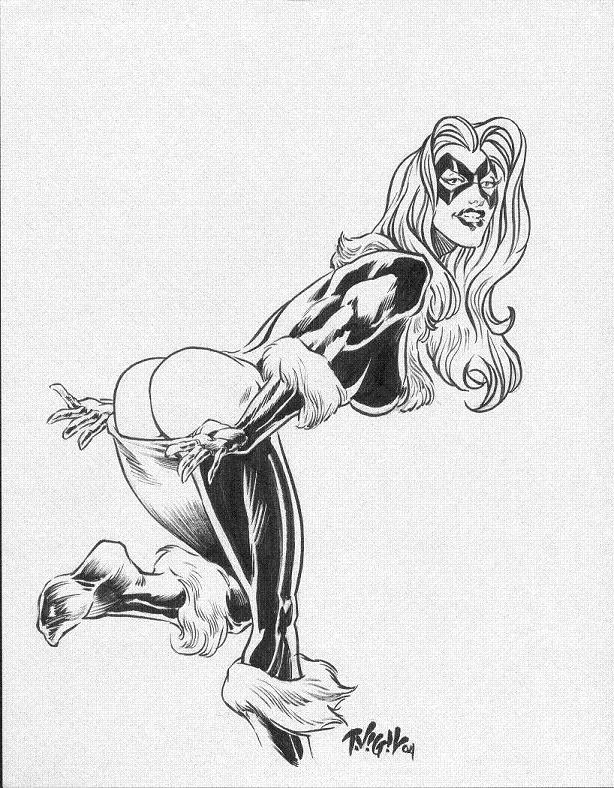 Black Cat © Marvel Characters Inc.; Posted by the Web-Ed on 07/17/2015 (click to increase in size).
We've remarked on the spankability of Spider-Man villainess/love interest The Black Cat before, and actually seen her spanked by Spidey once and we're about to see her spanked by Mrs. Spider-Man, Mary Jane. But before we do, let's have some preliminary fun!
In this drawing by an artist whose signature we believe is "T. Vigil" (we don't think it's the fantasy artist Tim Vigil) Black Cat seems ready, even eager, to get spanked again, for she's dropping her drawers with a big smile on her face. There's no doubt that a spanking or paddling comes next, so we have to wonder how long it will be before that smile changes to a sort of "Oooh!" as the number of swats goes up.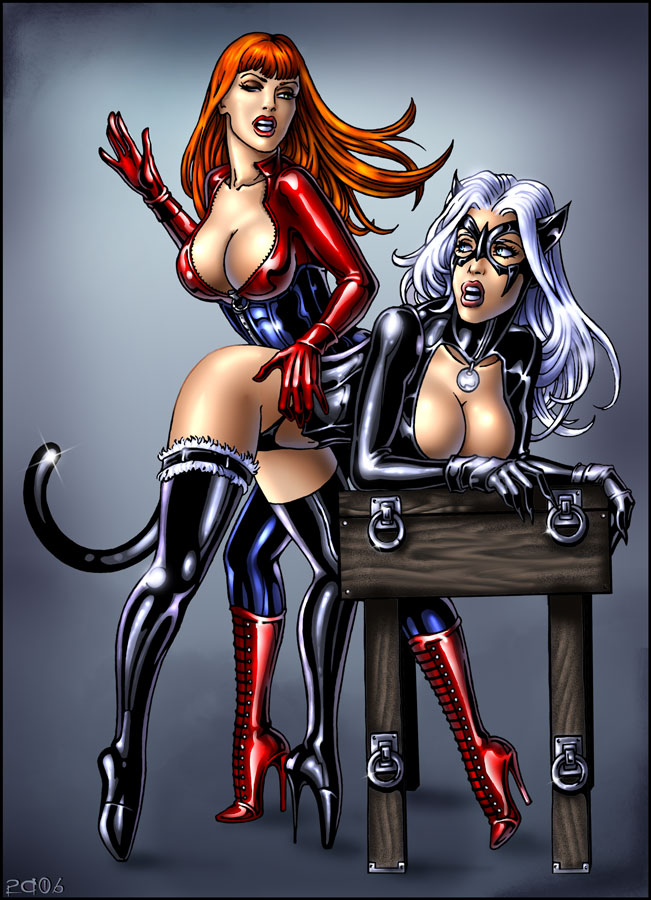 Unsigned by the artist, but the date is 2006 (colors thought to be by Candra). Black Cat and Mary Jane © Marvel Characters Inc. Posted by the Web-Ed on 07/17/2015 (click to increase in size).
Now on to the spanking by Mary Jane, which we found in the brief time we were signed on to Pinterest. Although her husband's involvement with Black Cat was all in the past, women tend to have long memories about such things, and given BC's questionable behavior at times we don't wonder that MJ has concluded it's time for a spanking!
We'd say Black Cat's expression is the high point here - she looks like she knows not to expect too much mercy from MJ! The rest of the composition is a little strange, with MJ wearing a vinyl outfit, BC wearing a modified version of her costume and bending over some sort of bondage equipment. We also can't understand why MJ is using her bare hand instead of an implement as long as she's got BC bending well over with her forearms flat like that, but this is a nicely-finished drawing nonetheless.