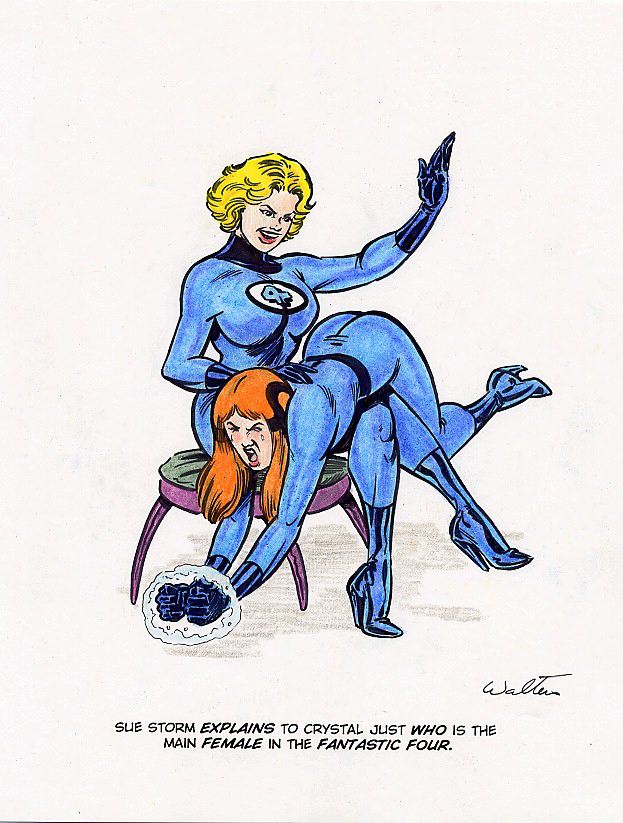 Invisible Girl spanks Crystal. Art by Adam Walters. © Marvel Characters Inc. Posted by the Web-Ed on 06/27/2014 (click to increase in size).
We think everyone pretty well knows who the Fantastic Four are, and our spanker here is that famous quartet's distaff member, The Invisible Girl (Sue Storm). But who is the spankee and why is Sue spanking her? For the answer we have to go way back to the days when Reed and Sue made comics history by (gasp!) getting married - something superheroes never used to do. Well, in due course of time Sue becaame pregnant, which left her with a problem - the superheroine's life is a strenuous and dangerous one, and not wanting to endanger their child, Sue decided to take a leave of absence from the team. Crystal of the Inhumans was brought in as a temporary replacement (see Fantastic Four #83-100).
Anyway, it seems that Sue wishes to remind Crystal that her job with the team is only temporary, and that Sue is still the alpha-female. With Crystal turned up high over Sue's knee, her wrists bound by Sue's force field and her fanny being warmed by Sue's left hand, it looks like The Invisible Girl is making an indelible point. Come to think of it, Crystal deserves (or will deserve) it anyway for breaking Johnny Storm's (Sue's brother and the second Human Torch) heart several years later when she leaves him for Quicksilver.
This is the last of Walters' work we had in our files except for some transgendered stuff we're not too thrilled with and probably will never present in these pages. His work strongly reminds us of one of Marvel's old-time artists, but as there is another of that description whose name we haven't revealed yet (we've called him "The ACES artist" a few times), we'll keep silent for now about whom we suspect he really was.