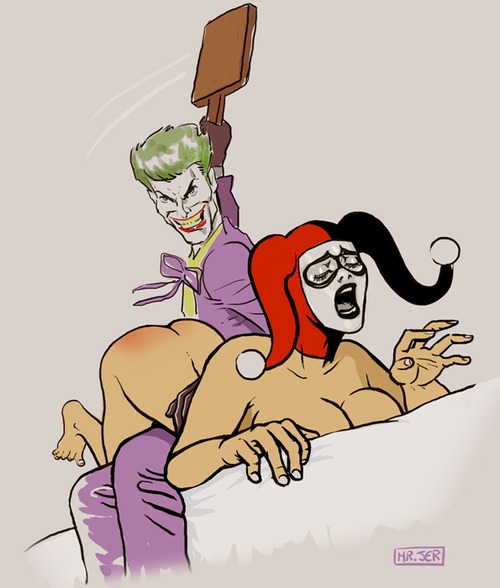 Art by Mr. Jer. Characters © DC Comics Inc. Posted by the Web-Ed on 06/14/2013.
In the 3rd in our four-part Joker/Harley mini-series the Joker has decided to use a wooden paddle. Putting aside for the moment that fact that a paddle as large as this can't be used effectively OTK because of alignment problems, this drawing fairly sizzles with eroticism due to the characters' expressions and posture. Harley is completely naked except for her headgear, her bare behind raised nice and high above the Joker's lap to receive the swats, and with a look on her face that tells us she's really feeling them. That's the thing about wooden paddles: love 'em or hate 'em, there's no denying they're effective, as Harley would certainly attest! As for the Joker, he's really laying it on with glee - no doubt this punishment is well-deserved.
The style here is different from that of either of the two previous entries, proving Mr. Jer's versatility. That and his overall skill got us thinking: it struck us as strange that an artist this accomplished could seemingly pop up out of nowhere in 2012. Then we took a closer look at his various styles and also considered two other non-artistic clues and concluded that "Mr. Jer" is an alias for a known artist - but we won't say more than that publicly. He's entitled to his privacy in drawing BDSM material just as all of us are in viewing it.