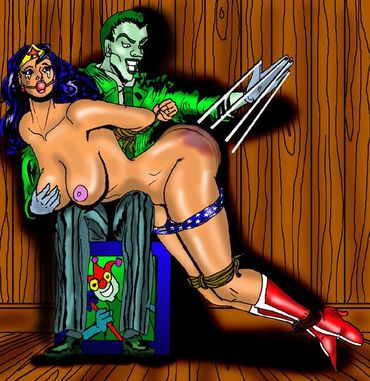 The Joker spanks Wonder Woman while seated on a jack-in-the-box. The artist is unknown. Joker and Wonder Woman © DC Comics Inc. Posted by the Web-Ed on 11/29/2013.
The Joker is of course Batman's archfoe, but he decides to turn Wonder Woman OTK here, spanking her with his left hand while subjecting her to another indignity with his right. Given this composition, it will perhaps not surprise CSR readers to know this drawing came from a site called (we think) Comics Orgy - we're not going to provide a link because we're not sure of the exact URL any more and because for the most part it's pretty vile pornographic stuff. Yet this drawing by an unknown artist is certainly of some interest to us, making it worthwhile to wade through pages of sludge in order to find it.
The proportions are a little off, with Wonder Woman's head undersized and her bottom oversized, but at least it's nicely-shaded. The Joker's jacket has been colored green instead of its proper purple, but it looks o.k. this way, and of course WW is bound as we would expect and even gagged. The Joker is seated on a jack-in-the-box, which is appropriate, and the picture of a jester on the front of the box made it look at first to us as though Harley Quinn were poking her head out.