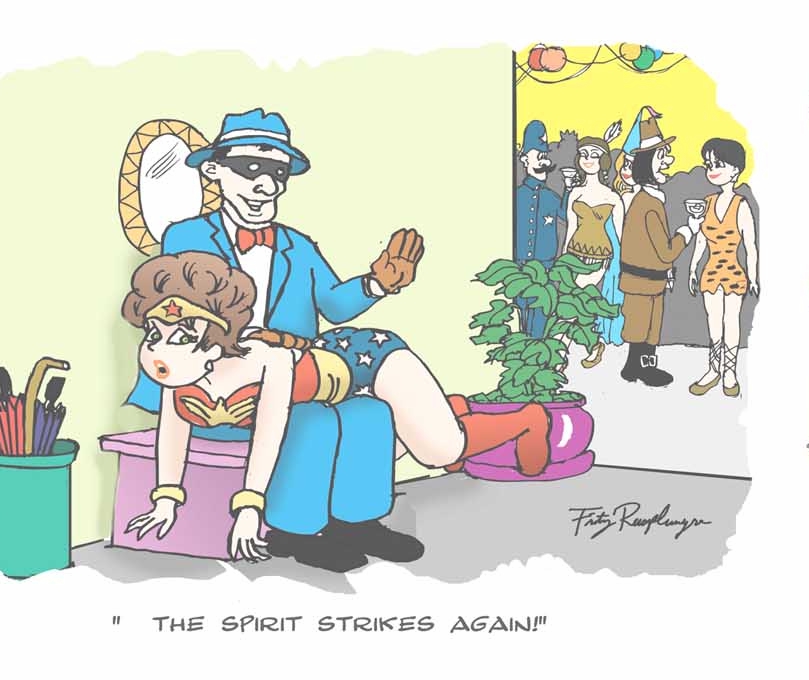 "The Spirit" spanks "Wonder Woman". Art by Fritz Bondocley. Wonder Woman © DC Comics Inc. Posted by the Web-Ed on 12/06/2013 (click to double-size).
If you dress like a superheroine for a costume party, you have to expect to be treated like one, which if you've adopted the guise of Wonder Woman means getting a good spanking! Our pretty partygoer here probably didn't expect to be taken OTK by another invitee dressed as The Spirit, but she'll get the hang of it quickly enough.
We suspect this one was based on Dan Rivera's Phantom Spanks Wonder Woman which we'll look at next time. The artist here seems to have signed his work with four different names at various times, and we're going to call him Fritz Bondocley until we know better. We'll be seeing a series of his work in the Humor Gallery at some future date and we'll go over his various aliases then.