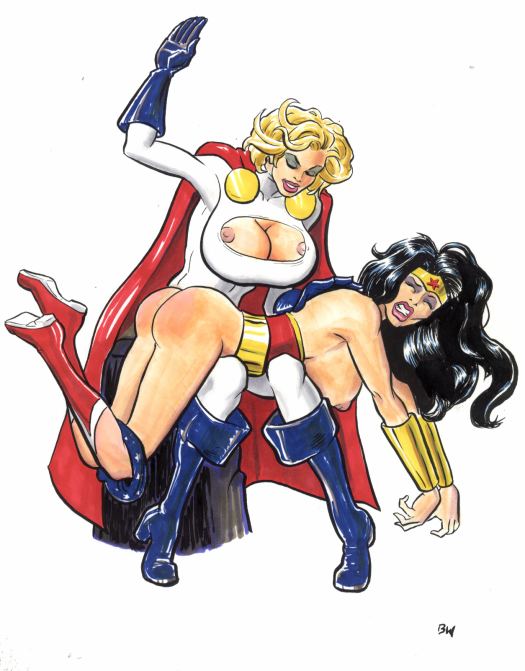 Owww! Power Girl spanks Wonder Woman with real power! Art by "BW". Power Girl and Wonder Woman © DC Comics Inc. (click to increase in size). Posted by the Web-Ed on 11/22/2013.
Another surprisingly good spanking we found at Rule34, which is basically a cartoon porn site: Power Girl really lays it on to Wonder Woman, the first time we've seen this particular pairing in this gallery. The artist seems to have signed the work "BW", but we have no idea who he is, which is a pity because he gets so much right here. The OTK positioning is excellent, with PG holding WW firmly in place using her left hand while raising her right hand high to deliver a powerful stroke. WW's star-spangled panties are down to her knees, revealing a shapely, reddening behind; her arms are submissively limp and her face shows that the sting is really getting through!
The only problem is the enormous boobs on both women which are large enough to be distracting. Power Girl has popped out of her top, while Wonder Woman's bustier has been lowered to half-mast. We're not sure whether these proportions are supposed to be comical or sexy, but any comedy would distract from the sheer intensity of the spanking (its strong point), and they're just too big to be sexy. Anyway, this is the only spanking drawing we have seen from the mysterious "BW", unless he's done some under another name.