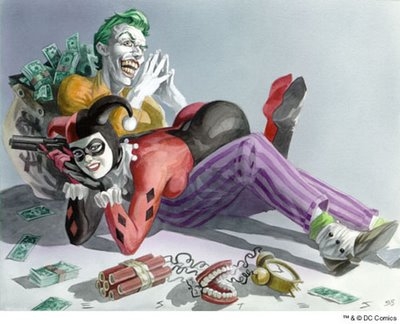 Artist unknown. Joker and Harley are © DC Comics Inc. Posted by the Web-Ed on 08/10/2012.
Considering the nature of the relationship between the Joker and Harley Quinn (discussed elsewhere), this is a surprisingly charming domestic scene between the two. Harley is submissively draping herself over the Joker's knee with her bottom raised high for his convenience in spanking it. The position isn't ideal because the Joker isn't firmly seated in a chair, although it's the kind of position that does crop up in real life between lovers, typically in the bedroom with the spanker seated on the bed.
There are some nice details here, like the Joker resting against a stolen sack of cash, the time bomb, Harley's gun, and the chattering teeth. We wish we knew who the artist was, because it looks like he took the time to fully paint this scene, not the quickest medium to work in. Valdor posted this one along with some others of Harley over at Spank Statement.