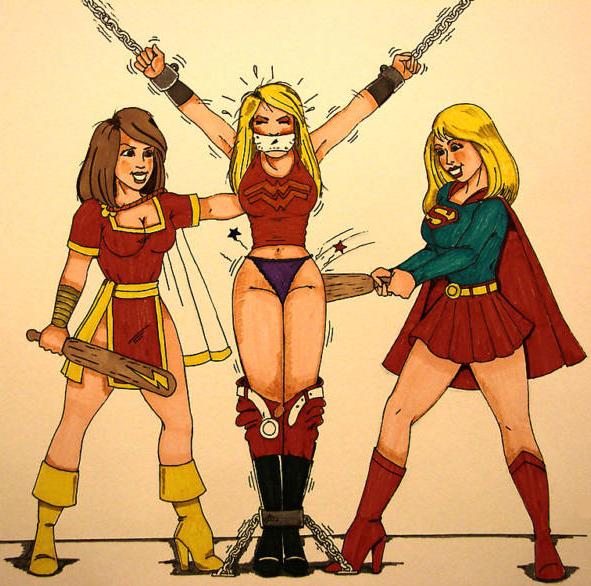 Artist unknown. Wonder Girl © DC Comics Inc. Posted by the Web-Ed on 07/26/2013.
Wonder Girl is fairly strong, but when two of the few superheroines more powerful than she is decide to initiate her into the superheroine sisterhood by paddling her behind, there's not much she can do about it. That's what happens to Cassandra here as Supergirl and Mary Marvel break out the paddles (Mary's even has the family "Shazam" lighting bolt emblazoned on it!). There's a lot of emphasis on bondage with Cassandra restrained by chains and gagged, which doesn't exactly go along with the sorority paddling theme, but any time a paddle is being applied to a superheroine's fanny we have cause for celebration. As with our previous example, this one came from Comic Images and the artist is unknown.
We love paddling, but can't help wishing that Wonder Girl had been made to bend over instead of a dungeon-like hanging-in-chains position being used. Still, Supergirl and Mary seem to be having a good time, and Cassandra looks like she's feeling those super-swats!