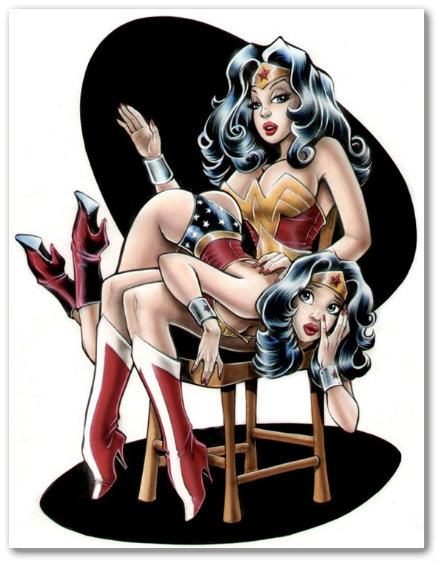 Art by Steve O. Reno. Wonder Woman and Wonder Girl © DC Comics Inc. Posted by the Web-Ed on 08/02/2013.
We mentioned at the beginning of this series that there had actually been three Wonder Girls. The first of these was Wonder Woman herself when she was a girl, although Diana only rarely appeared during the Golden Age as anything other than an adult (see All-Star Comics #8 and Wonder Woman #23 for two of the exceptions). Interestingly, this Golden Age "Wonder Girl" has inspired three drawings we'll see now with Diana in effect spanking herself.
We're not sure how literally we're supposed to take this set-up, since logically Wonder Woman cannot appear at the same time as her younger self - perhaps these are supposed to be "impossible tales" of the type that writer Robert Kanigher favored during the later Silver Age in which Queen Hippolyta spliced together films of Diana at different ages, a concept which makes almost no sense in our view (cf. the "imaginary tales" that appeared in the Superman Family titles during the 60's). But however it came to be, Wonder Woman seems determined to give her younger self a very real spanking, seeing to it that her bottom is raised nice and high. The fine OTK positioning is probably the highlight of this drawing by the artist who takes the pseudonym Steve O. Reno, which also features a stylish rendering of these characters with some nice finishing work.