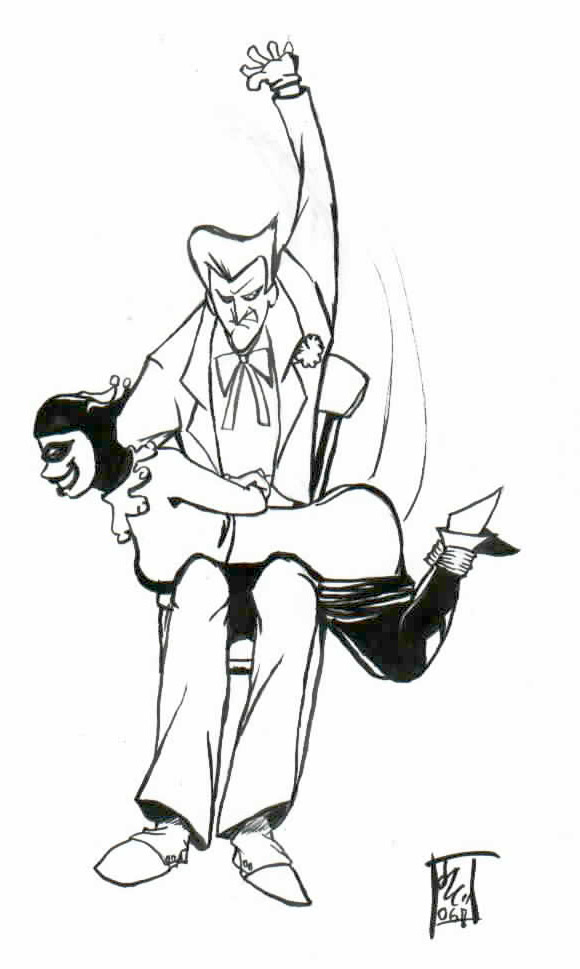 Oh, Mistah J! Art by Discordwolf. Characters are © DC Comics Inc. Posted by the Web-Ed on 08/14/2015 (click to increase in size).
Lately, we've seen Harley Quinn spanked by just about every female character that remotely makes sense in the role of her spanker, so let's pause for the refreshment of seeing her spanked by a male character. There are three logical men for the job, Batman, Robin (either the Dick Grayson one or the Tim Drake one), and The Joker, the first two because they're lawmen out to punish criminals and the last because he's her lover. And it's a lover-ly spanking The Joker is giving Harley here, the ninth one we've seen in this gallery. Harley's position is too far back and would tend to tip her backward off Joker's lap, but at least she's got some decent bending at the waist and Joker has her arm pinned.
The artist is Discordwolf (real name Jacob Hollis), who's been around for a while (in fact this work dates from 2006 although we only ran across it within this past year). He intended to render the characters as if done from Bruce Timm's model sheets, and we think he's succeeded. He inked this the old-fashioned way, by brush, and if someone would color it the old-fashioned way (by brush with special colored inks) it would look like something out of a pre-digital-era comic book. We don't know much about him as he doesn't appear to have published too many drawings, and this is the only spanking scene among them. He supplied some dialogue:
"... You're not supposed to be enjoying this, Harley."
"I can't help it, Mistah J!"
Which pretty much says it all.