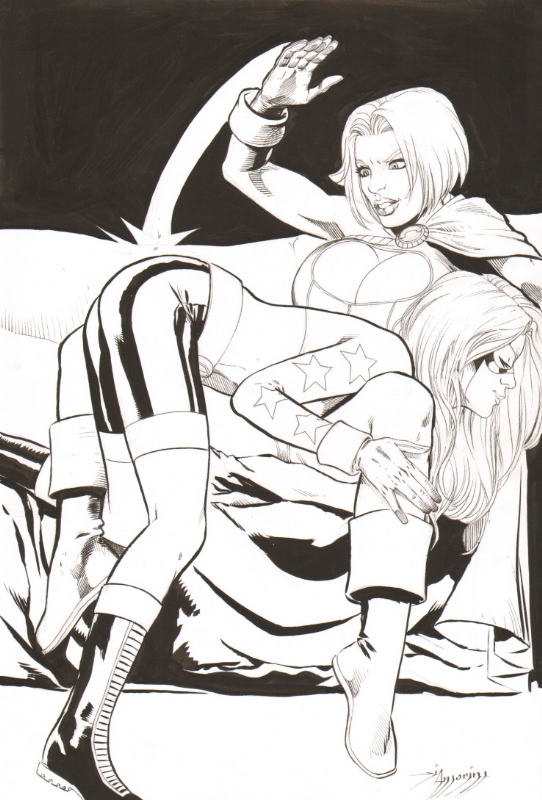 Team leader Power Girl disciplines Stargirl (click to increase in size). Posted by the Web-Ed on 06/14/2013.
Power Girl applies the OTK treatment to a contented-looking Stargirl in this B & W drawing by an artist whose signature we don't recognize. Power Girl has a good leg lock on her, but otherwise the position is a little shaky because PG's knees are so far apart, keeping Stargirl well to her right. It doesn't matter much, though, since Stargirl is being very cooperative, bending over as far as she can to give Power Girl a good target. This is a decent drawing we found on Comic Images, a non-spanking site which has been a good source of spanking material but is difficult to search for new postings only.
Power Girl should be sort of familiar to everyone by now, at least to the extent we've seen her spanking and being spanked in the gallery repeatedly, but who exactly is Stargirl, today's spankee, I hear you ask? She's basically another of those modern descendants of Golden Age superheroes, in this case Starman (Ted Knight). He passed the baton (his cosmic rod) to his son Jack, who took early retirement, and perhaps because his own son was still an infant, decides to give the rod (no snickering, please) to Courtney Whitmore, who became Stargirl. She later joined the JSA (Justice Society of America) All-Stars, a group of which Power Girl was the co-leader, so this spanking does make a certain amount of sense - team discipline must be maintained, after all.
Somewhere along the way, Ted had redesigned the Cosmic Rod, perhaps because it was so undeniably phallic (as can be seen from the drawing of the original Starman, below left), into a Cosmic Staff. This worked o.k., but the staff looks more like something that would be wielded by a biblical patriarch rather than a modern-day skinny blonde girl.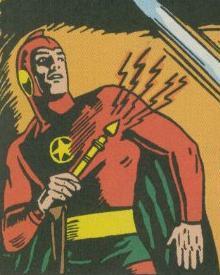 The original Starman, Ted Knight, and his amazingly phallic Cosmic Rod!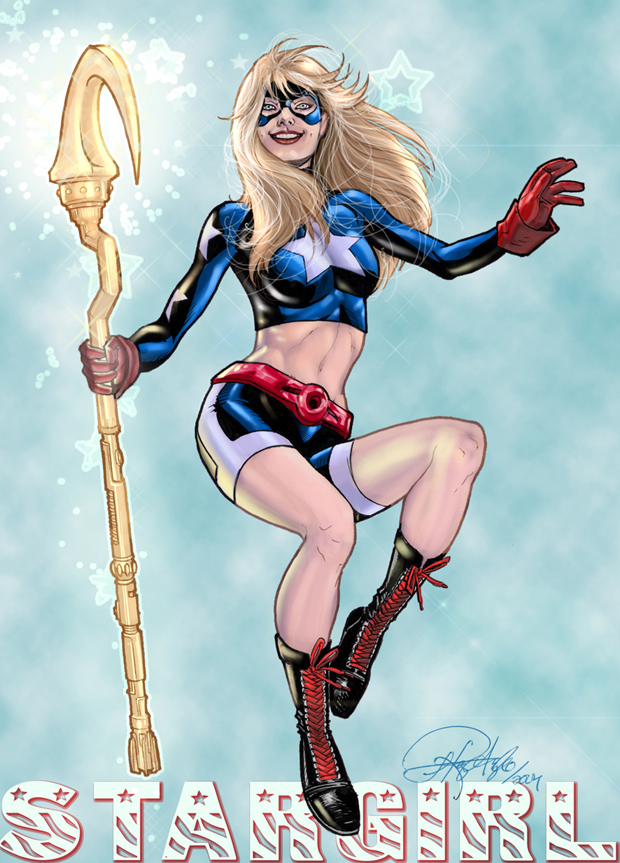 Stargirl, inheritor of the cosmic staff (click to increase in size).

Yes, Stargirl, that's what your friends do (if you're female) - they spank you when you need it!