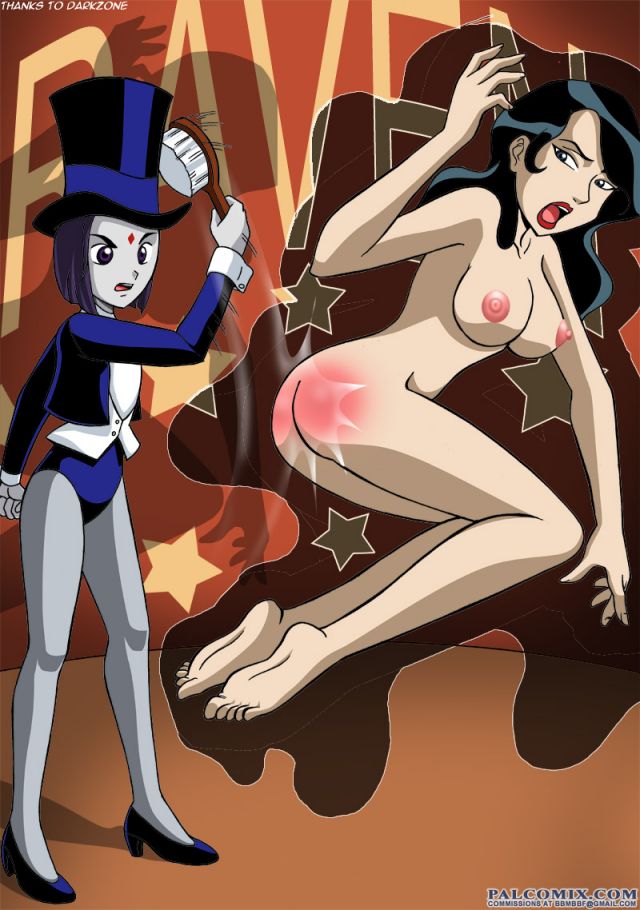 Art found on Lusciousnet but was certainly on Palcomix originally. Thought to be a commission for Darkzone. Characters are © DC Comics Inc. Posted by the Web-Ed on 06/03/2016 (click to double-size).
Last time we saw Raven take her licks from Zatanna. This time the tables are turned (in more ways than one since Raven has donned Zatanna's costume!) and it's Zatanna's fanny on fire as Raven's hairbrush does its work. The position is a bit unusual, sort of bending over while floating in the air, and only possible when your characters are the magical type. Good overall execution by the artists at Palcomix (although as with our previous scene we found it on Lusciousnet). The acknowledgment in fine print suggests this was a commission for Darkzone, who has ordered many.
We discussed the characters last time and mentioned that there was at least some logic in a member of the Justice League spanking a member of the Teen Titans. Since this time it's the other way around it seems less natural, although as consolation we get to see Zatanna spanked, and that's something that hasn't happened nearly enough! We can more easily see Hawkman, say, in the role of spanker rather than Raven, who after all is just some punk kid, but we do like to see Zatanna's behind turning red.