Saturn Girl in her 70's pink bikini costume. We think the art is by Dave Cockrum.

Dream Girl, artist unknown.
Joe Gravel is no stranger to these pages as we have seen many of his superheroine spankings and some of his non-spanking humor over on the Forum. Although we have never seen Saturn Girl yet as either spanker or spankee, she should be at least a little familiar as well from our special feature Spankable Superheroines of a few years ago. (We're proud to note that an internet search on "saturn girl spanking" will quickly bring up the bending-over pose we posted at that time). That leaves us to explain who Dream Girl is.
Both girls are members of the pre-Crisis Legion of Super-Heroes. Dream Girl made her first appearance in Adventure Comics #310 (1964), fairly early in the team's publication history, while Saturn Girl was a charter member. Dream Girl had platinum blonde hair and was evidently modeled on Marilyn Monroe. She was the closest thing to a sex-symbol Mort Weisinger (editor of the "Superman Family" titles at the time) would have allowed. Her super-power was to have visions of the future in her dreams, which explains the gag here: "This dream just never seems to end!". Sexual relations were not implied in those days mainly due to the Comics Code; in later decades, much less restraint was shown in the way her sexual behavior was implied.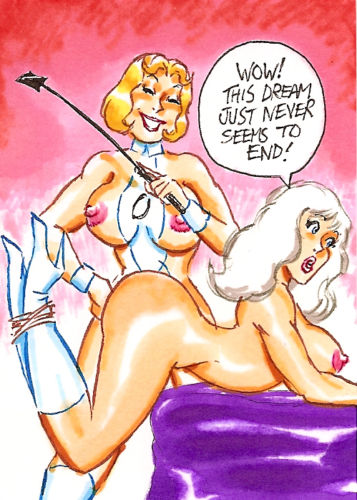 Art by Joe Gravel. Posted by the Web-Ed on 05/22/2015.
Obviously, our personal preference would be to have either of these girls on the receiving end of a M/F spanking, but Gravel, like many other artists, shows a strong preference for F/F situations. We can't say why Saturn Girl is taking the riding crop to Dream Girl here, but at least she's nicely bent-over with her back arched to turn her bottom up. Gravel's trademark oversized boobs for humerous purposes are certainly evident, and there's just a bit of bondage as well. Overall, this is a good effort from Gravel.