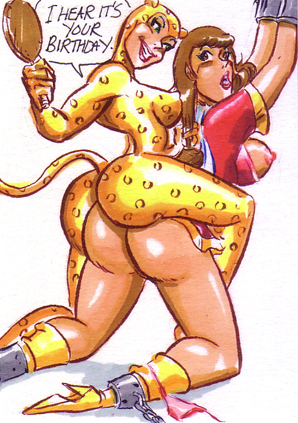 Art by Joe Gravel. Posted by the Web-Ed on 05/29/2015.
Independent art sometimes features "crossover" spankings, and this is one of those times: Wonder Woman's old enemy The Cheetah has decided to spank Mary Marvel, and in a very unusual position! (Though the Marvel Family is now owned by DC, they were originally Fawcett's characters). Maybe Wonder Woman was too busy getting spanked by someone else that week. Anyway, we're always happy to see somone take the paddle to Mary, who gave five spankings in actual comics (see the Comic Spanking Data Base for details) but never received any herself.
Most of the many superheroine spankings of Joe Gravel we've discovered have been located on out-of-the-way cartoon porn sites, but this was on of the few times someone named poopoopie beat us to it, so a tip of the cap to her (or him, as the case may be).