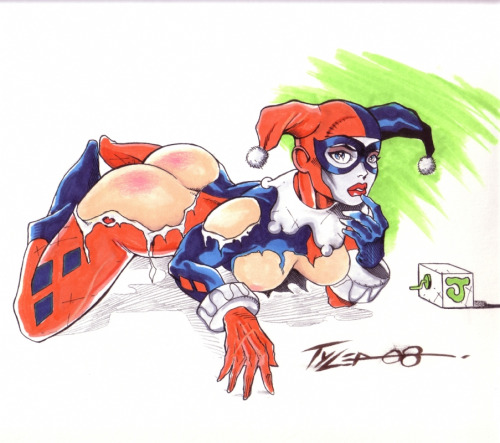 Art by Tylep. Harley Quinn is © DC Comics Inc.
Harley Quinn has been spanked so many times on the pages of CSR that we couldn't list them all. The Joker, Poison Ivy, Catwoman, Batman, even Batgirl, both villains and heroes, have warmed Harley's behind repeatedly - and she's deserved every bit of it! This time, we don't get to see who the spanker was, but he was certainly thorough, and the Joker Jack-in-the-Box on Harley's left strongly suggests that it was her own "Mr. J." who put the twin spots of red there this time. That and the ripping of Harley's costume, that is. Harley has a nice, contemplative look on her face, but doesn't seem in the least upset, probably understanding that she needed and deserved her spanking.
This is a superior effort from an artist named Tylep or perhaps Tyler (we're not sure from the signature), who makes his first appearance in CSR. We haven't seen anything else of his, which is a pity given the quality of this drawing, and in fact this one came from eight years ago. We believe that it was posted on Veralsi's site, and that someone must have reposted it perhaps from there to wherever we found it - we don't remember where that was.