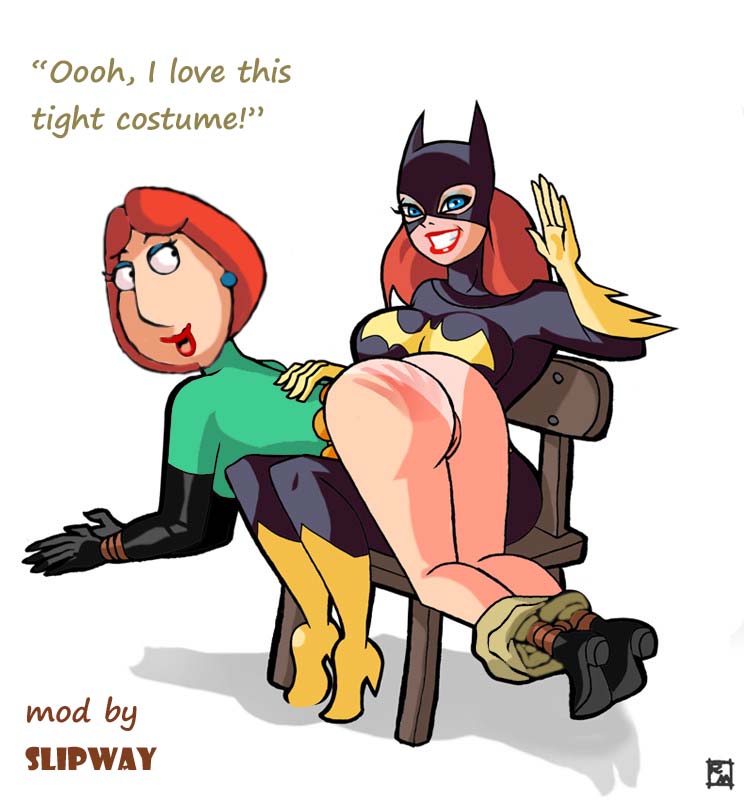 Art by Rafaele Marinetti as modified by Slipway. Characters are © DC Comics Inc.
Batgirl spanks Family Guy's Lois Griffin in a rather improbable cross-over of the type we see now and again. The person responsible for this is known only as Slipway, and we don't know if he has made any other forays into the world of spanking art. As a matter of fact, when we saw this, something looked familiar about it even before we noticed the words "Mod by" before "Slipway" and the signature of Rafaele Marinetti.
Marinetti should be somewhat familiar to CSR readers, having done a Batman Swats Batgirl commission for us back in 2009 and having appeared in these pages a number of times since. He enjoys a very great mastery of craft, being one of the most technically proficient of contemporary artists who have done BDSM work, and can utilize several different styles. We consider it a great pity that Marinetti apparently no longer does this type of work although he is still available for commissions. We believe that for a while he tried to hide his BDSM stuff behind an alias, but we'll say no more about that here.