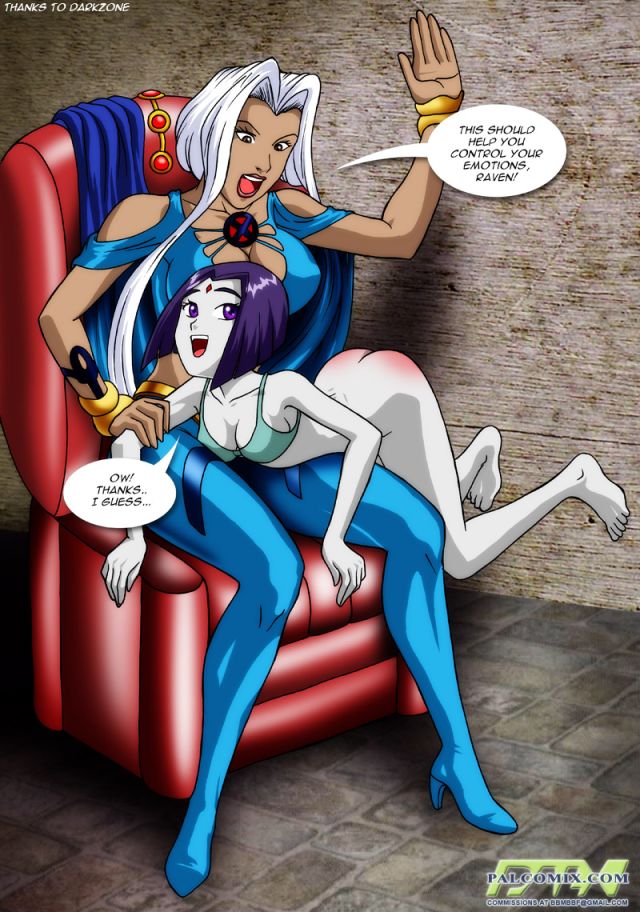 Storm of Marvel's X-Men crosses over to the DC Universe to spank Raven. Drawn by the artists of Palcomix as a commission for Darkzone. Characters are © Marvel Characters Inc. and DC Comics Inc. Posted by the Web-Ed on 07/29/2016 (click to double-size).
By this time you have to wonder when Raven will be able to sit down again. We've seen her spanked by just about everyone in the DC Universe during this Super-Spanking Summer (2016), so someone thoughtfully sent out to the Marvel Universe to ask Storm of the X-Men to come by and turn Raven OTK for yet another spanking! Actually, that "someone" is none other than Darkzone, whose many commissions have brightened up the world of superheroine spanking and who commissioned this one from Palcomix, probably some years ago. These commissions have been seen several times on CSR , so a tip of the cap to him.
As we can see from this drawing, Palcomix had some able artists. They were unable to undertake a commission for us several years ago when we asked them. They don't seem to be doing anything in the way of spanking these days, but we haven't checked over there in a long time and we don't know what the story is (we found this on Lusciousnet). Anyway, this is a good scene, although Raven should be a little further forward over Storm's lap for balance. Raven has trouble with emotional control, hence the dialogue here. We feel about using spanking to help a female control her emotions the same way we do about using chicken soup to help cure a cold: it may not help, but it certainly couldn't hurt - much.