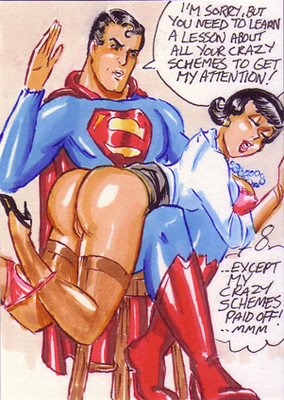 Superman gives Lois Lane another long-overdue spanking. Art by Joe Gravel. Characters © DC Comics Inc. Posted by the Web-Ed on 08/25/2017.
Now we know why Lois was always tormenting Superman with those crazy schemes that made everyone say, "Teach her a lesson, Superman, by giving her a spanking" - she wanted the spanking

!
This is one of the later pieces by Joe Gravel that we found during our never-ending searches, we believe on some porn site. CSR readers have seen Gravel's work here many times over the last few years, and this one has his usual strengths (a willingness to do spanking scenes, good OTK positioning, and spankees with ample bottoms) without most of his usual weaknesses (oversized boobs, overt sexual acts). Yes, the "exposure" is somewhat gratuitous, but it is outweighed by the merits of this very nice drawing of the under-utilized spanking pairing of Superman and Lois Lane.