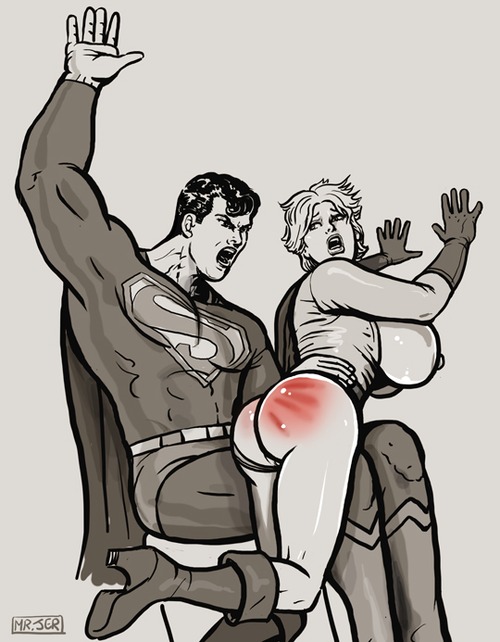 Superman has a few things to say to Power Girl, which he punctuates with some well-placed spanks. Art by Mr. Jer. Superman and Power Girl are © DC Comics Inc. Posted by the Web-Ed on 07/12/2013 (click to increase in size).
Because Power Girl is so strong, she's often the one giving the spanking as we have seen. We don't mind that too much as long as the spankee is also female, but there's really nothing like a M/F spanking, and one in which a strong woman like Power Girl is the spankee is best of all. But who can spank the mighty Power Girl? Why, the Man of Might himself, of course - Superman! (Besides, Power Girl is really an alternative version of Supergirl, of whom Superman is the best possible spanker).
Mr. Jer is the artist here, displaying once again good draftsmanship and good OTK positioning. Supes looks like he's delivering one hell of a lecture to go along with some mighty thwacks, but even so he has the presence of mind to keep his left knee close to his right, necessary to make room for PG's ridiculous-sized bosom! PG was always better-endowed than Supergirl, which made no sense since they were basically the same character, but she wasn't this big, and she wore a cleavage-revealing costume, which seems to have split open here. We try to see things like this in a humorous light.
Next time PG manages to stay in her costume - the upper half, anyway - but her bare bottom once again feels the power of Superman's right hand!