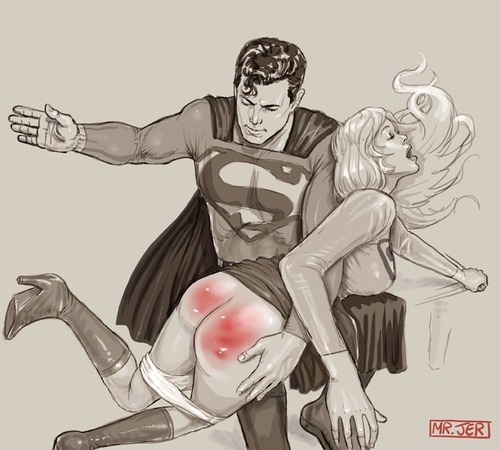 Superman calmly administers some bare-bottomed discipline to his cousin Supergirl, who submissively accepts her spanking while being unable to stop herself from wriggling about because of the sting. Art by Mr. Jer. Characters © DC Comics Inc. Posted by the Web-Ed on 08/02/2013.
The second of two Superman/Supergirl pairings now by Mr. Jer. He seems to get better the more he draws a given set of characters, for just as his second Superman/Power Girl offering was better than his first, so this second Supergirl spanking is superior to the one we saw last time. Everything is just about perfect here, from the anatomy to the costumes to the expressions, with Superman calmly doing his paternal duty in disciplining his younger cousin and the lovely young Supergirl giving herself up completely to submissive rapture - this is what submissives are referring to when they talk about getting into "sub space". On the physical level, though, the stinging is so intense she can't help wriggling around!
Mr. Jer once again employs a rather unique coloring: a monochrome tint everywhere except for the red hue of Kara's blazing behind! This is as good a superheroine spanking as we have ever seen, and it is fitting that it should occur between the most desirable superhero/superheroine pairing imaginable. This is the super-spanking that should have happened but didn't during Supergirl's early years, say 1959 to the end of the Silver Age in 1970.