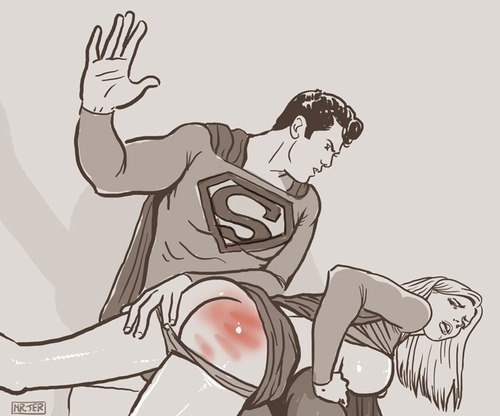 Superman adjusts Supergirl's panties to make sure he has a clear path to her bare bottom, although it looks like the spanking is already well underway. Art by Mr. Jer. Characters © DC Comics Inc. Posted by the Web-Ed on 07/26/2013.
Let's continue our Power Girl series (in a manner of speaking) by switching to Supergirl as the spankee - after all, PG began as the Earth-2 Supergirl back in DC's pre-Crisis days. As we've remarked before, Superman is the ideal spanker for Supergirl, being her older cousin who acted as her guardian before she was adopted by Fred and Edna Danvers (this again is the pre-Crisis canon). Of course, one of a guardian's duties is to raise his ward properly, and that may require some old-fashioned discipline. The comic-strip Superman gave four spankings to various bad girls, so it would have been perfectly logical for him to have spanked Supergirl. Alas, it never happened in the comics (see The Supergirl Spanking Search), but it has happened numerous times in independent art, and we'll look at another example now by Mr. Jer.
The OTK positioning is pretty good, and Supergirl's struggling doesn't seem to be helping her at all (heh heh!). Superman looks like a strict cousin, and Supergirl like an embarassed spankee, so count the expressions as right on the money - more good spanking work from Mr. Jer. Next time we'll see even more, with Supergirl actually getting lost in "sub space"!