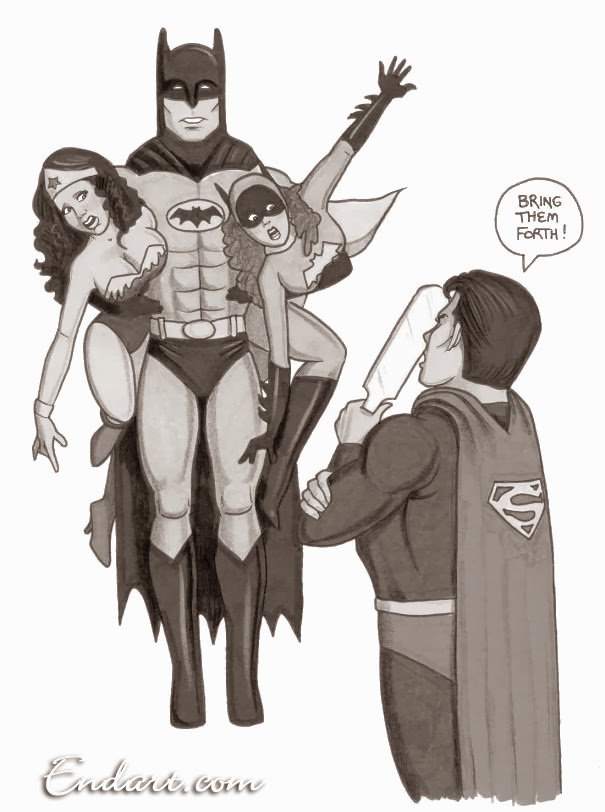 Art by Endart. Characters are © DC Comics Inc. Posted by the Web-Ed on 09/04/2015 (click to increase in size).
"Bring them forth!" commands Superman, and Wonder Woman and Batgirl look mighty scared as Batman carries them to face Superman's paddle! This appears to be another "inside the Justice League" type of scene by Endart, although Batgirl was never a member of the League. Most of Endart's work was in color, and we don't know why this drawing is in black & white. Of course, what we'd all like to see is the follow up in which both culprits get the spankings they deserve. And as it happens, we can provide the one with Wonder Woman (see below)...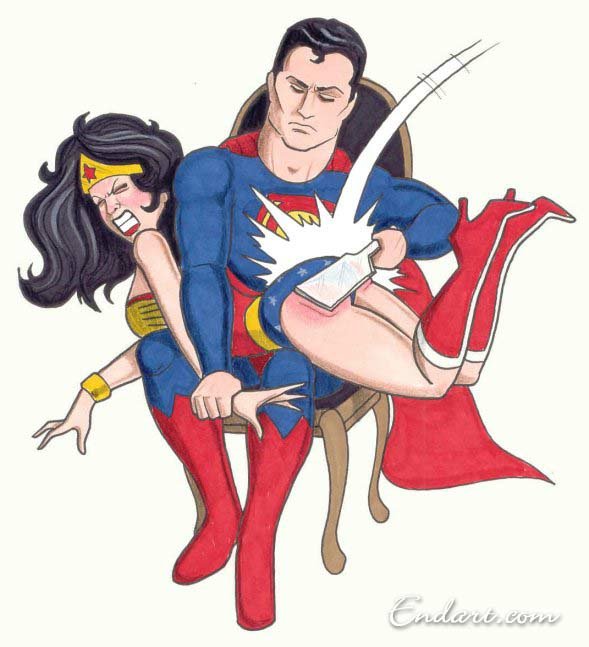 The mighty Superman applies his lexan paddle where it will do Wonder Woman the most good, resulting in "warm wonder buns" (which we believe was the artist's name for this drawing). Art by Endart (click to increase in size). Characters are © DC Comics Inc.
We don't actually know that these two were intended as a set, but the paddle here does look like the same one he had above. This is not the first time Endart has drawn Superman spanking Diana - see Superman Spanks Wonder Woman #5 for another scene inside JLA headquarters - but this time the action is further advanced, with a swat actually being applied. There's something for everyone here - a superhero spanking a superheroine, OTK positioning with spankee restraint for the OTK enthusiast, a "moment of impact" shot, and the use of a paddle to increase the intensity of the sting. From her expression we'd say Diana was really feeling the heat!
Was there ever a "Superman spanks Batgirl" companion piece to this one? We can't say, but if we ever find one, we'll post it here.