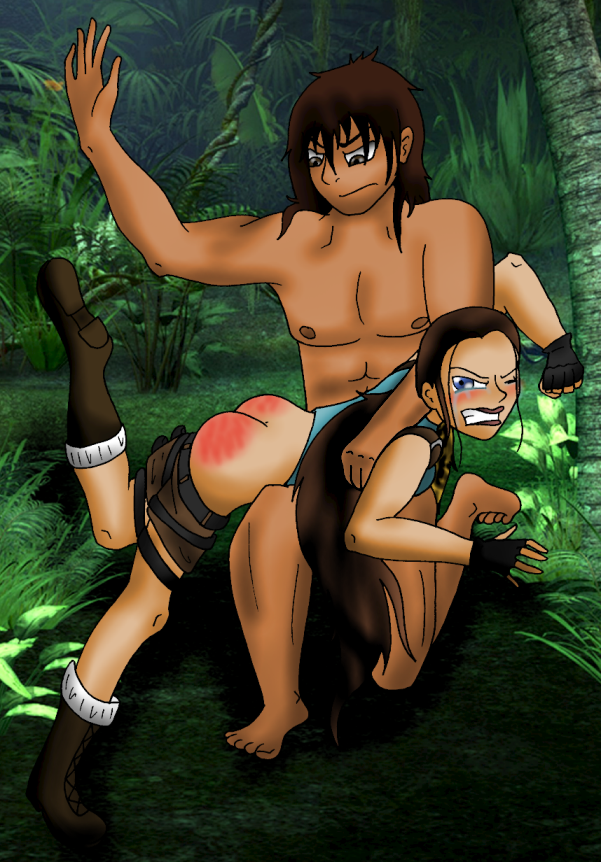 Tarzan spanks Lara Croft. Art by Zani-alone. Posted by the Web-Ed on 07/11/2014 (click to increase in size).
We love Lara Croft spankings because she's the type of arrogant female that really needs to be taken down a peg. Coming up with logical spankers for her is not always easy, though. Any action-adventure hero known for solo adventures could work - The Phantom would be an obvious choice except that he hangs out in the jungle, far from where we would expect ancient tombs to be found (Egypt), although we're no archeologists. Another jungle hero is of course Tarzan, who gets the nod here to administer some much-needed comeuppance.
When being spanked, spankees may be totally submissive or may resist at some level. The highest level of resistance is physical struggle, and that's what Lara is trying here. But females are generally outmatched when fighting against males, and Lara's futile struggle will only contribute to her humbling at the hands of a physically superior male. Zani really brings out the struggle here through Lara's expression and its futility by Lara's reddening bottom. Some may be troubled by the undeniable non-consensuality of this scene, but there is an equally-undeniable eroticism in the sight of a strong woman being forced to submit to a stronger man, and Lara will have to submit (that is, admit that she's been spanked despite her best efforts to prevent it) when her fanny has been sufficiently Tarzan-tanned.