It is sometimes said of a confusing situation that you can't tell the players without a scorecard. In this case, we're not sure you're going to be able to tell who the players are even with a scorecard, but we're going to provide one anyway. The paddler getting ready to administer a backhanded swat is Rose Wilson, a/k/a Ravager, who made her first appearance in Deathstroke the Terminator #15. She had been a member of The Teen Titans but left the team after a short time, then went out on her own, later became a nanny(!), broke with her father Deathstroke, and rejoined the Titans.
The second paddler is Raven, whipping up a paddle with her rather ill-defined super-powers. Raven became an important character in The New Teen Titans when the team was revived in the 1980's.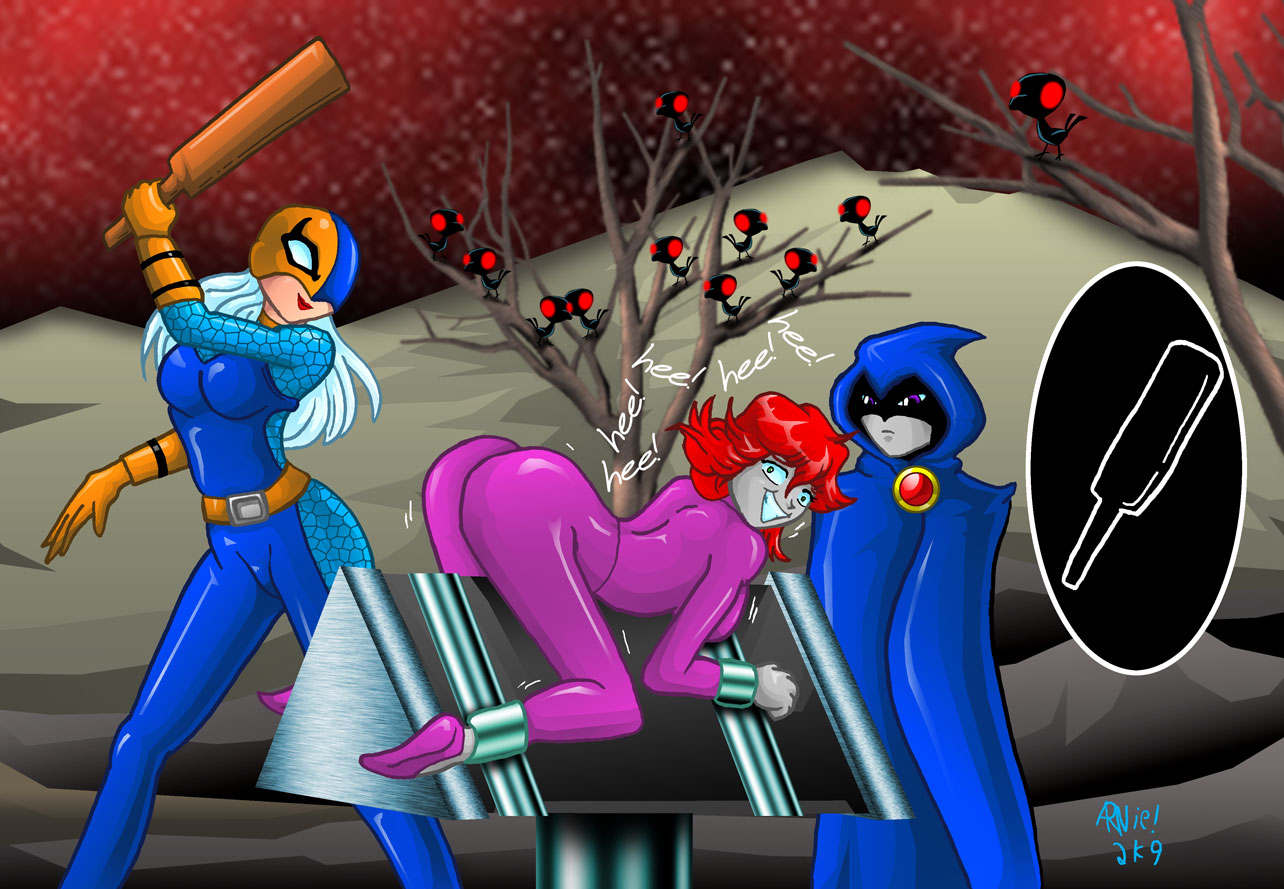 Art by Arnie, characters © DC Comics Inc. Posted by the Web-Ed on 07/06/2012 (click to increase in size).
Our spankee here is Duela Dent, who goes back the furthest, to Batman Family #6 (July-August 1976), where she assumed the guise of The Joker's Daughter, even though she was really the daughter of another Batman villain, Two-Face (Harvey Dent). She eventually joined the Teen Titans as Harlequin (not to be confused with the later character Harley Quinn), but before she could really get her new career off the ground, the Titans disbanded! We think she then wandered around pretending to be the daughter of various super-criminals before being killed off by one of the Monitors, but given the complexity of the post-Crisis DC Universe, we're really not sure.
Whoever she is, she's certainly offering a fine target for the paddle, securely fastened to a very modern-looking spanking horse and arching her back nicely. We would like to see an impact shot, also. The artist is Arnie, who has done a lot of superheroine bondage work but no other spankings as far as we know. This piece was done on commission, and the story behind it is too long to present here. Suffice it to say that Raven and Ravager believe that Duela has this paddling coming to her.