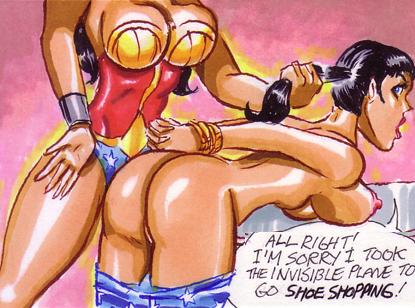 Other teen-age girls might get spanked for borrowing the family car without permission, but Donna Troy is being turned OTK for taking Wonder Woman's robot plane to go shopping - truly a spankable offense! Art by Joe Gravel. Wonder Woman and Wonder Girl © DC Comics Inc. Posted by the Web-Ed on 09/06/2013.
We located most of Joe Gravel's spanking drawings by searching for them in odd places like Xbooru, but Samantha (alias Poopoopie) beat us to this one, and we don't know where she found it. Miraculously, Wonder Woman keeps her top on this time, but Gravel gravitating toward big-bosom humor as he does, Wonder Girl (Donna Troy again) loses hers. The star-spangled panties identify what remains of her clothing as costume #1, but even those have been taken down to expose her bare bottom to some much-needed correction.
Gravel is a very capable humorist, and we've posted at least a couple of examples of his non-spanking art on the CSR Forum (here). Borrowing Diana's invisible robot plane to go shoe-shopping is certainly grounds for a spanking, and we do not know whether this cartoon was drawn before or after Andy Cohen's on a similar theme, which we saw last time.