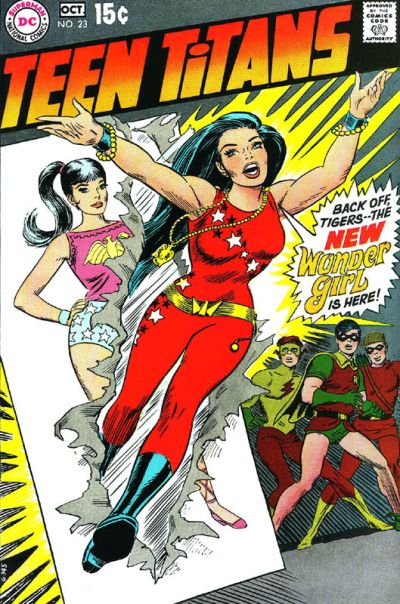 Wonder Girl displays her new costume as she emerges symbolically from the old one on the cover of Teen Titans #23 (September-October 1969). Art by Nick Cardy. Characters © DC Comics Inc. (click to increase in size).
Last time we discussed the origin of the second Wonder Girl, Donna Troy, in 1965. Four years later it was time for a new costume, and Nick Cardy, who had become the Titans regular artist, came up with a beauty: it was a simple one-piece design, but very striking and tight enough to be just fine for spanking! Cardy, by the way, did a lot of excellent work on the Titans' book even though he got off to sort of a slow start with the cover of The Brave and the Bold #60, which featured a strange-looking head shot of the new Wonder Girl.
A lot of us really wanted to see Wonder Girl spanked in her new costume. Of course, we were exactly the same jokers who had wanted to see Wonder Girl spanked in her old costume, but never mind. The timing was against us, for although DC had two M/F spankings earlier in 1969, they were the last of the Silver Age which was about to give way to the Bronze, a bad era for spanking at DC (see our article Whatever Happened To DC Comics Spanking During the Bronze Age? for a lengthy analysis of the situation). For a little more about Cardy and WG's costume, see Stuart Taylor Spanks Amazon Queen.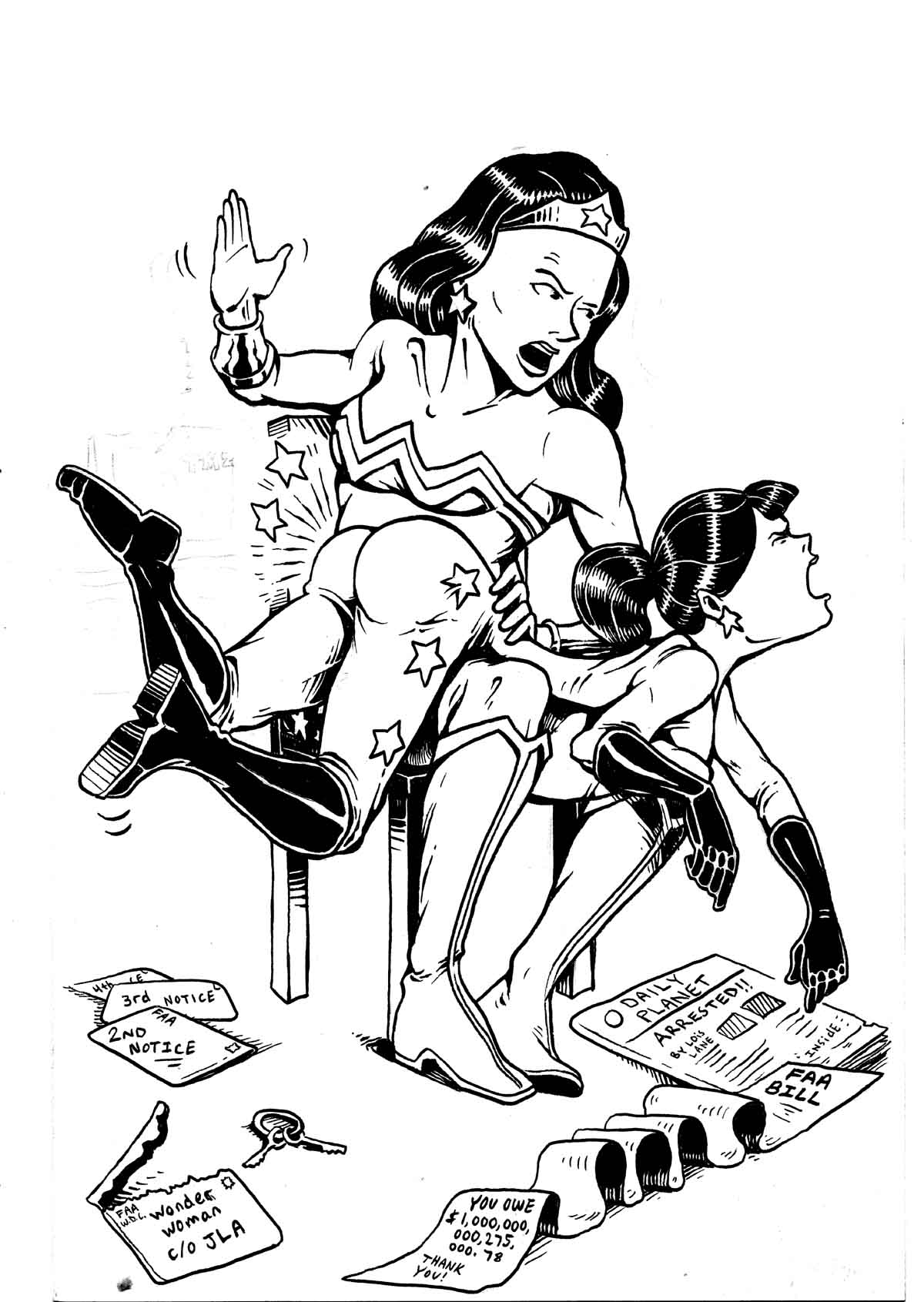 Donna Troy pays the price when the bills come due - in a double sense - for her outrageous behavior! Art by Andy Cohen. Wonder Woman and Wonder Girl © DC Comics Inc. Posted by the Web-Ed on 08/23/2013 (click to triple-size).
And that brings us to the sixth work of independent art in which Wonder Woman spanks Wonder Girl - artist Andy Cohen chose to use WG's second costume. As for the situation, it looks like Donna has been behaving like a typical celebrity teen, violating FAA rules when flying Diana's plane, spending scads of money, and getting herself arrested! There's only one way to handle a teen as unruly as this, and Wonder Woman certainly knows what that is having given (and received) so many previous spankings herself!
Cohen's style is unusual, and he gives Diana a rather large head and small bust, but he also provides very good OTK positioning with Donna's nice round bottom raised good and high - you can see what we meant earlier when we said her costume's tight fit made if perfect for spanking! From her open mouth and the pain stars over the affected area to go with the stars on her costume, we'd say Diana hasn't forgotten how to make the spankee feel the sting.
This is Cohen's only known spanking drawing. He has no website or gallery that we're aware of, but we'd like to see more work of this kind from him.