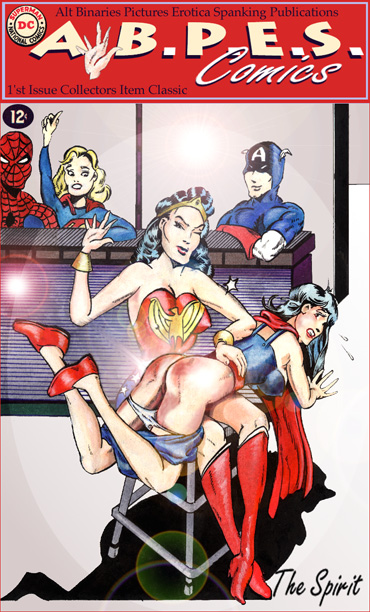 Phantom Lady gets a shorts-down spanking from Wonder Woman on the front cover of the mythical A.B.P.E.S comics. Art by The Spirit. Characters © DC Comics Inc. and Marvel Characters Inc. (click to increase in size). Posted by the Web-Ed on 11/08/2013.
Here we have a very interesting pairing of two heroines who both go back to the Golden Age: Wonder Woman of course, and the once-notorious Phantom Lady whose "headlights" were featured prominently (in a double sense) in Fredric Wertham's Seduction of the Innocent (see Frontier Romances #1 for more about this). Now The Spirit could have gone the easy way and depicted this pair in their modern versions (Phantom Lady was revived by DC in the 70's and then retconned twice more, the last time as a spoiled society girl - an ideal spankee), but he chose to go back to the Golden Age and to change his style to match, which always presents some difficulties to an artist. In fact, this mock-cover for a comic book that never saw print (but should have) reminds us of the work of Joe Simon, who among many other things co-created Captain America (also seen here) with Jack Kirby. Supergirl and Spider-Man are a little anachronistic since they came along later (in the Silver Age), but Supergirl seems enthusiastic about the spanking, and it's hard to imagine that Spider-Man is exactly heartbroken about having a front-row seat for this exhibition either.
The Spirit provides nice OTK positioning with Wonder Woman firmly in control and Phantom Lady showing the effects of the spanks so far - some of the marks actually look as if they were from a cane, and we're not sure what conclusion to draw from them. Overall, this is a fine example of a Golden Age spanking that didn't happen but should have. (Phantom Lady was never spanked in her comics although Wonder Woman was of course both spanker and spankee in hers).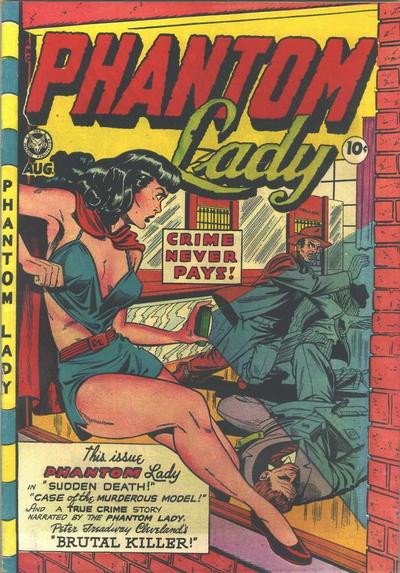 Cover art by Matt Baker. (Click to increase in size.)
Since Phantom Lady is probably not too familiar to modern readers, here's another of her classic covers, from Phantom Lady #19 (August 1948) - good old Fox! Nobody did Good Girl Art better during the Golden Age. PL is using her principal weapon, her blackout beam, to blind the crooks, but to tell the truth, given the outfit she's wearing she could just as well have distracted them with her "headlights" long enough to wallop them good.