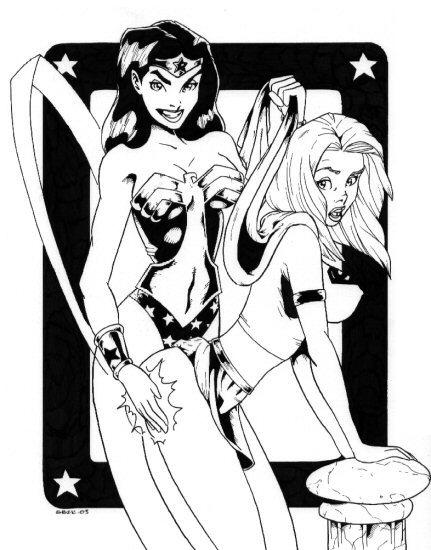 Artist uncertain - may be Garrett Blair. © DC Comics Inc. Posted by the Web-Ed on 08/22/2014.
We found this example of Wonder Woman spanking Supergirl on Lusciousnet, but its low resolution suggests it first appeared somewhere else. The style resembles that of Garrett Blair, whose work we last saw a few years ago in Vampirella Spanks Batgirl, although the signature isn't legible and doesn't look like known examples from Blair.
Utilizing a bending-over position with the hand as the spanking implement is an unusual combination, but it does turn up every now and then and that's what we see here. Supergirl looks very innocent as she receives her swat, whereas Wonder Woman is wearing a semi-wicked grin - she's done this before, that's for sure!