We have seen that the first Wonder Girl was Wonder Woman herself when she was a girl, and that the third WG is Cassandra Sandsmark. We come now to the one in the middle, Wonder Girl #2 Donna Troy, whose origin is the most complicated by far and who as it happens is the one of the three we personally would most like to see spanked. She had many costumes to go with her multiple origin stories, so we'll try to clear everything up for you now without recounting the entire history of the DC Universe.
As the Silver Age progressed, Justice League became a top-selling book for DC, so naturally they wanted to duplicate its success with a second super-team, eventually settling on the teen-age sidekicks of various Justice Leaguers. This gave them Robin, Aqualad, and Kid Flash, the sidekicks of Batman, Aquaman, and Flash respectively with Green Arrow's ward Speedy added a little later. But Wonder Woman didn't have a sidekick - she herself had been Wonder Girl - so the story now was that Diana had taken the orpaned Donna Troy to Paradise Island where she was given powers similar to Diana's (an artificial method had to be devised because Donna was not an Amazon). Later, the story was that she was a sort of artificial twin of Diana's imbued with part of Diana's soul. It gets more complicated after that, but fortunately we can stop right there.
Bruno Premiani was probably the artist who came up with the costume, which had the same star-spangled panties Wonder Woman's did but had more Grecian-looking boots and a full-coverage sleeveless shirt in place of Wonder Woman's slightly provocative bustier.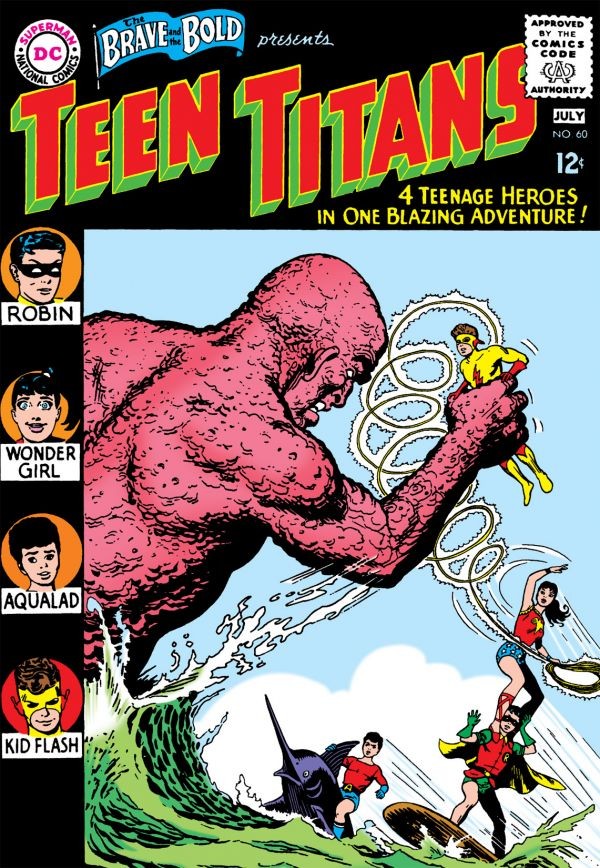 A somewhat crazed-looking Wonder Girl on the cover of The Brave and the Bold #60 (July 1965) where the original Teen Titans made their debut. Art by Nick Cardy. Characters © DC Comics Inc. (click to enlarge).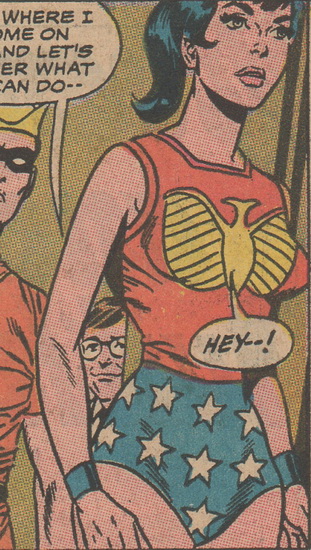 Wonder Girl #2 (Donna Troy) in costume #1, which strongly resembled Wonder Woman's. From Teen Titans #19 (January-February 1969, Web-Ed's collection). Art by Gil Kane and Wally Wood. Characters © DC Comics Inc.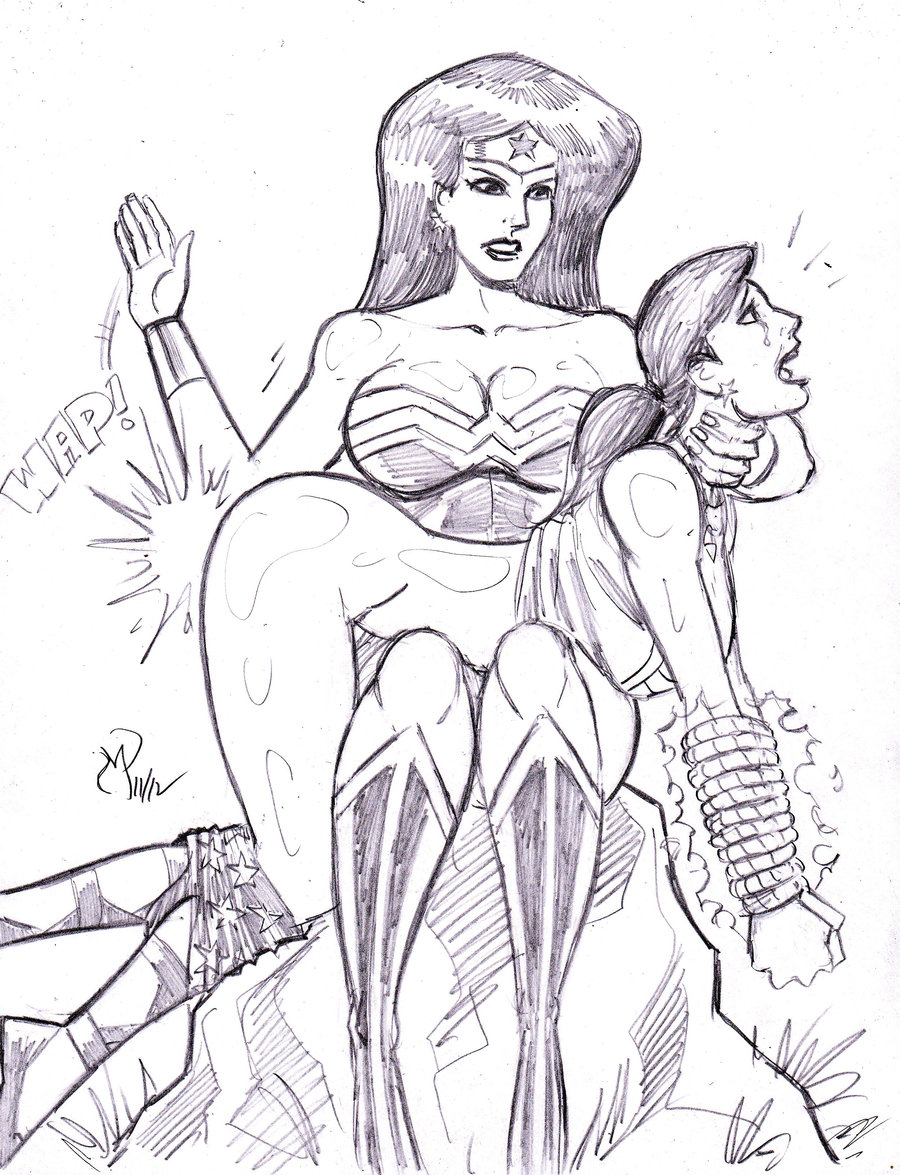 Art by Michael Powell. Wonder Woman and Wonder Girl © DC Comics Inc. Posted by the Web-Ed on 08/16/2013.
If you look carefully you can see that it's this first costume that Wonder Girl is wearing here as Wonder Woman takes her over the knee, arms bound with the magic lasso and her panties down, to receive what we may assume is a disciplinary spanking. We really like arching the spankee's back, but it's much easier to do bending over than OTK. Probably the only practical way to guide the spankee's shoulders up and arch her back in the OTK position is to bring the non-spanking arm up under both of the spankee's arms; putting the hand around the spankee's throat as seen here should not be attempted as we don't believe it's safe (unless your spankee has super-powers as of course Donna does).
The artist here is Michael Powell, an industrious fellow with a distinctive style who has done lots of topless bondage stuff but only a few spankings. We'd guess that a large part of his work is done on commission but don't know if that was the case with this piece.