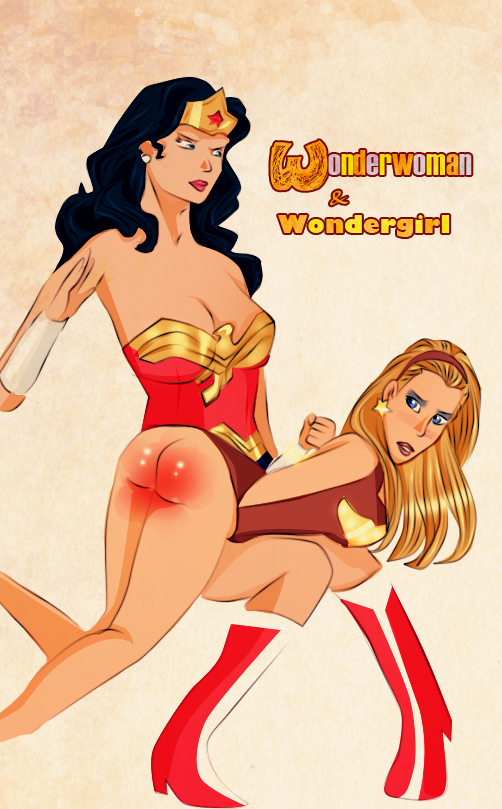 Art by VulcanSpock. Wonder Woman and Wonder Girl are © DC Comics Inc. Posted by the Web-Ed on 07/03/2015 (click to increase in size).
The third Wonder Girl, Cassandra Sandsmark, is once again the spankee in this commission for Monk (one of CSR's contributors, by the way) executed by VulcanSpock. As a matter of fact, we'll be seeing more of this threesome (Monk, VulcanSpock, and of course Cassandra) in coming weeks. The spanker: Wonder Woman, of course! After all, teen-age sidekicks must be kept in line with firm discipline. We're not sure whose hand that is between Cassandra's shoulder blades, although it may be that WW has her right arm pinned with a grip very high up on the wrist, but the OTK positioning is good and Wonder Girl's red bottom suggests the spanking is effective.
VulcanSpock has a rather angular style with minimal use of curves, as some artists do, and yet her line "flows" easily, to use a critical description that is sometimes bandied about without much meaning. This characteristic reminds us a little of Don Flowers, but we won't belabor the point just now. Her anatomy is sometimes just a little elongated (WW's chest and Cassandra's face), but she gives both women attractive features without following any models too closely. WW's old bustier is used with the American Eagle on it - always a point in an artist's favor.