The concluding spanking in our latest Archie series strangely took place only four issues after "The Ming Vase Episode" that we saw last time, in Archie #230 (November 1973). It would have been great if spankings had been featured every four issues or so, but unfortunately they didn't continue at that rate, and in fact this is the last one we know about. The story is called "The Tennis Nut" with script by Dick Malmgren, pencils by Dan DeCarlo, and inks by Jim DeCarlo.

Interestingly, the swat is shown on the top of the cover, where it was customary to get a "sneak peek" at the interior contents. Note: Archie covers were generally stand-alone gags that didn't have anything to do with the stories inside, as with the "five footers" bit here. This certainly suggests that the editor felt the swat might help sell the book, a point we have raised before when considering the value of spanking in advertising.

Cover of Archie #230, pencils by Dan DeCarlo and inks by Rudy Lapick. From Robin's collection, now in the possession of the Web-Ed. © Archie Productions Inc.

Archie applies his racquet where it will do the most good. © Archie Productions Inc.
The plot here is simple enough: Archie has been studying the game of tennis so he can be Veronica's doubles partner, and the two of them take on Betty and Reggie. But Archie's studies haven't exactly turned him into a great player, so when he tries to return Reggie's forehand shot, he accidentally delivers a backhand swat to Veronica's rear!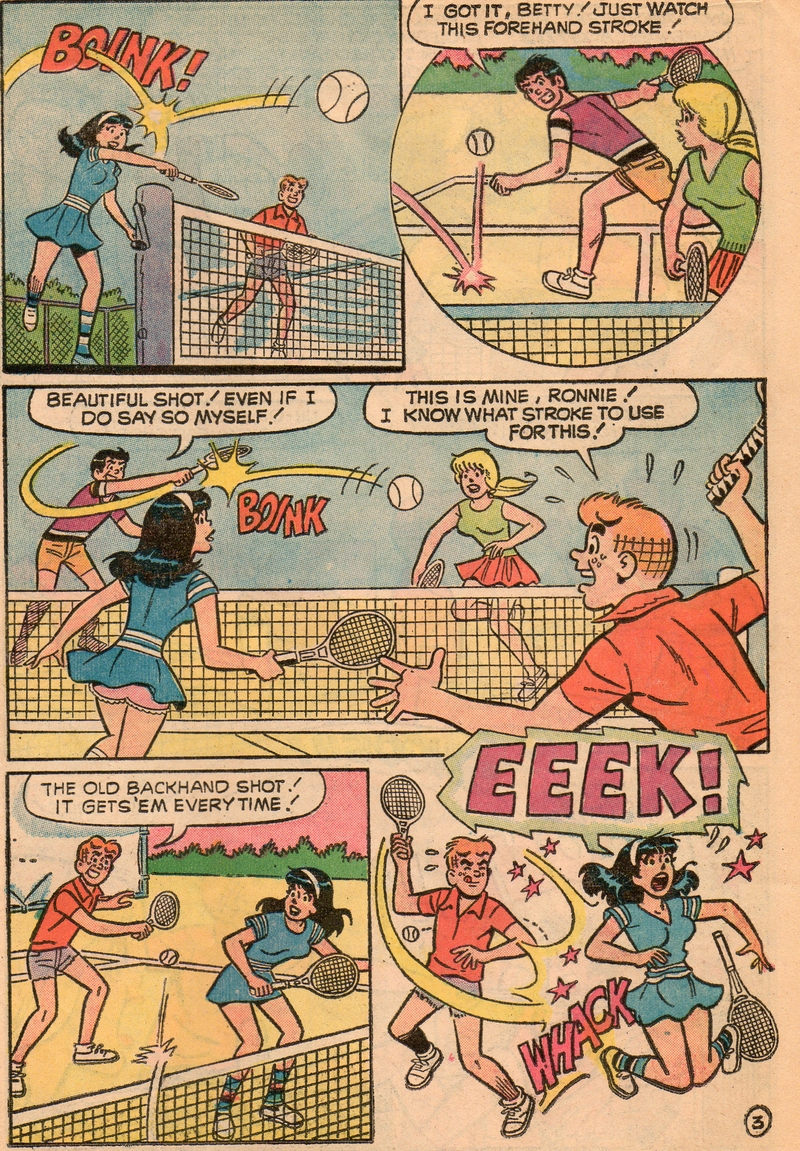 © Archie Productions Inc.
Now of course we all prefer in general a nice OTK scene, but despite not being OTK this one is excellent for a variety of reasons. To begin with, a tennis dress is a superb spanking outfit, as Tanner remarked on the CSR Forum. Second, it's a nice solid whack, with plenty of "pain stars" and Veronica's statement that "I don't think I could take too many of your backhand strokes," which makes us want to see just how many stokes she could take. Third, DeCarlo does a remarkable job on the post-spanking panel: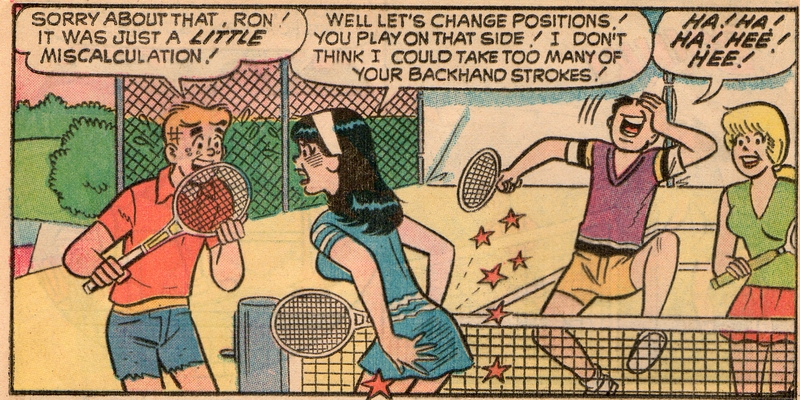 © Archie Productions Inc.
He suggests that Veronica's rear end is still smarting by the use of additional "pain stars" and by the line-shading across the seat of her skirt - note that the same type of shading is used to indicate her face blushing with embarrassment and annoyance - so we must conclude that blushing buttocks are being suggested here. Next, we have Reggie's reaction: he's doubled up with laughter, partly because of Veronica's stinging bottom but mostly, we may infer, at Archie's incompetence. Finally, there's the expression on Betty's face: how many times has she had to suffer when Archie, whom she's crazy about, seems to prefer Veronica? And so Betty is not exactly heartbroken to see Veronica, her longtime rival, Veronica who treats Archie rather badly, Veronica who tends to get a little stuck-up every now and then - standing there humiliated with her fanny on fire! Yep, this tennis match is going very well for Betty - and for us! Great work by longtime Archie chief artist DeCarlo.