<!- IMAGE ->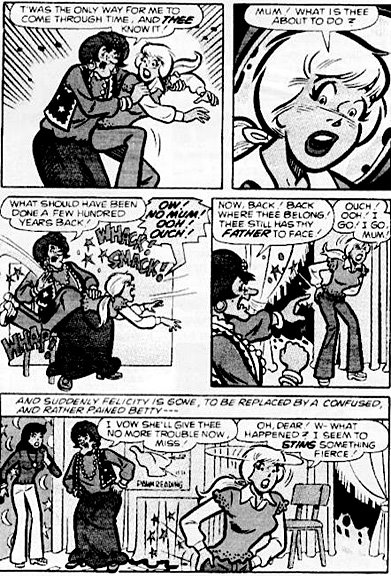 © AP. Posted by the Web-Ed on 09/25/2009
Continuing our new series of "Riverdale Spankings", our second entry again features Betty Cooper. This time, we have one of the four spankings we know of that actually took place in the comics. We don't have the date or issue number - there were a huge number of "Archie" comic books published over the years beginning in the 1940's and we haven't been able to track this one down - but it looks like the 60's or 70's). This is a rather odd spanking situation as Betty has been possessed by a spirit girl from the past named Felicity, and it is really Felicity who earns the spanking pictured here, delivered by her mother who has herself come back from the past and possessed an older lady - got that? Strange as it may seem at first, Betty was such an innocent "girl next door" type that this might have been the only way she could have believably "earned" a spanking. Archie's other girl, Veronica Lodge, was another matter, as we'll see in our next entry.

We had known about this one for some time, but didn't decide to present it here until we had accumulated enough material to make an entire series. This and our next example were recently featured by Doc Ken in his blog Spanking Minnesota .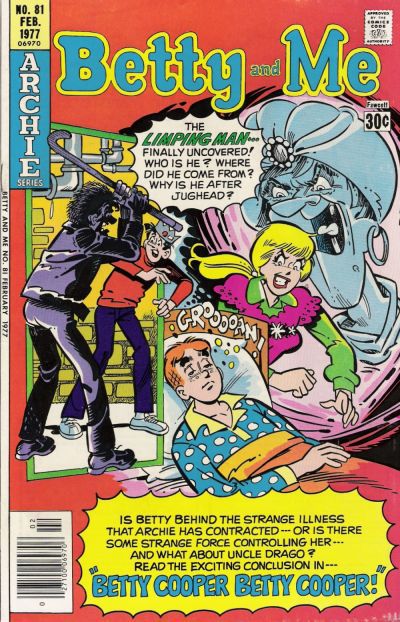 Betty and Me #81 (February 1977). Pencils by Stan Goldberg; inker unknown. © AP (click to triple-size). Posted by the Web-Ed on 10/09/2015
10/09/2015 Update: With the help of Robin, we can now identify the source of this spanking: Betty and Me #81 (February 1977). In fact this was the continuation a story called "Betty Cooper, Betty Cooper" that had begun in the preceding issue. The pencils are by Stan Goldberg, inks by Jon D'Agostino, and the script by Frank Doyle, whom it will be remembered also scripted Veronica's spankings by Mr. Lodge in Archie #226 and Archie's Girls Betty and Veronica #199 several years earlier. Perhaps Doyle thought that it was only fair that Betty take her turn over someone's knee - and who are we to disagree?

Let's take a look now at three panels in their original color and at larger size.