The panel at left has been seen around various spanking sites but without any context, so no one, except the original anonymous poster, knew what the story was or what comic book it had come from. Fortunately, it was among the comics sent to us by Robin, so now we can get the whole story as we continue our series of spankings in the Archie comics line.
It turned out to have come from Archie #226 (June 1973) in a story entitled "The Helping Hand" (for convenience, we'll continue to refer to it as "The Ming Vase Episode") with script by Frank Doyle, pencils by Harry Lucey, and inks by Chic Stone.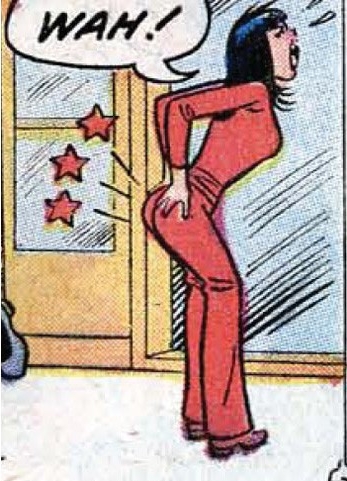 The widely-seen "Wah!" panel. © Archie Productions Inc.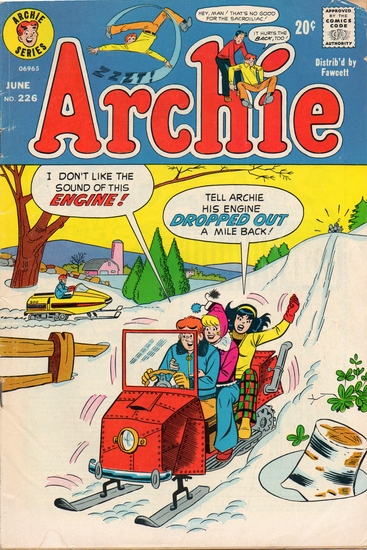 Cover of Archie #226, pencils by Dan DeCarlo and inks by Rudy Lapick. © Archie Productions Inc.
There has always been a great deal of interest in seeing either of Archie's girls Betty and Veronica getting spanked (see this topic on the CSR Forum), but if we were to take a poll as to which of the two readers would most like to see OTK, we think that Veronica would "win" hands down, as it were. The reason is that Veronica is occasionally a little stuck-up, conscious of her good looks, wealthy family, and social position, and there's a very strong human desire to see such women taken down a peg. There are many examples in comics, all of them very satisfying, with perhaps Lee Falk doing it best (see Phantom spanks Queen Pera, Mandrake Spanks Countess, and Grandfather Spanks Granddaughter Princess).
We've summarized the plot's essentials below using three drawings of Veronica taken from the story. Basically, Veronica's haughty attitude earns her a stinging seat. Artists Lucey and Stone do a very fine job in using Veronica's body language to convey her bad attitude.