Sensation Comics has been a rich source of spankings for us, but until now, all of them have been from its most famous (and lead) feature - Wonder Woman (see the Comics Spanking Data Base for a complete list). This time, the far less well-known Black Pirate is the source, in a story titled "The Last Curtain" from Sensation Comics #22 (October 1943). Let's take a look at it.
O.K., now that we've seen the spanking-good conclusion of the story, who are these people? The Black Pirate started out as a swashbucking series perhaps with Prince Valiant in mind, for there were only captions and no speech baloons during his early run in Action Comics. Sheldon Moldoff created the series, and although he was to work on many others during his long career at DC, the Black Pirate was his personal favorite and he certainly lavished care and attention upon it. Pirate comics never really did take off, though (some readers may recall that one of the differences between the fictional world that Alan Moore created for Watchmen in 1986 and ours is that pirate comics had become very popular in that one). But during the early war years superheroes were on the rise, and when The Black Pirate moved over to Sensation Comics, some changes were made were made to bring the feature more in line with superhero conventions.
The Black Pirate (Jon Valor) started wearing a mask, as most good superheroes of the day did, and acquired a teen-age sidekick in the person of his son Justin. His wife Donna (our spanker here) didn't become "Lady Pirate" or some other such silliness, but she did don a mask in this story for some reason. We don't have the complete story, by the way - we have one other page that we're not presenting because of copyright restrictions - but it appears that our spankee, Alice, disguises herself as a boy in an attempt to free her father, who's gotten in trouble with the law, from prison. When Jon finds out she's a girl, instead of taking her sword away and spanking her (our preferred plot line), he stands around unsure of what to do until Donna does it for him, an almost feminist plot development that is rather surprising. The F/F orientation was the rarest of the four during the Golden Age (which we define as 1936-56), numbering 47 spankings (9.4%) versus 161 M/F, 63 F/M, and (gag!) 229 M/M according to the Data Base at the present time (2017).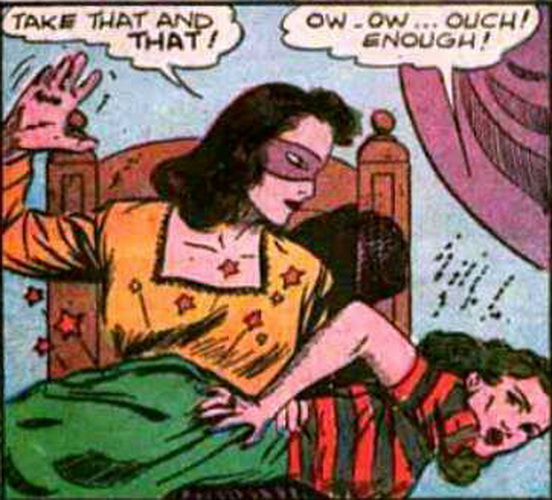 The spanking panel. Scan by Andre. © DC Comics Inc.
The spanking panel is not great but it is satisfactory. Moldoff does more of a close-up than is generally seen with spankings, so even if the OTK positioning were better (it's o.k.) we really wouldn't see all of it. The close-up does make it easier to read the spanker and spankee's expressions, and these are well done with a determined-looking Donna laying the spanks onto Alice, who is trying to reach her right-hand back to rub her stinging behind! A goodly number of pain stars and Alice's declaration in the final panel (along with more pain stars!) that the spanking was a "painful lesson" leaves no doubt as to its efficacy

. We could wish for a better-defined target, but Moldoff's style and the loose fashions of the late 16th century preclude one.
We believe that we were the first to discover this one, but the only copy of the book we could find was selling for $900, more cash than we had on hand. That's the problem with Golden Age comics that are still under copyright - they can't be scanned and posted on the internet, so we have to locate a physical copy. In this case Andre managed somehow to come up with one, and our thanks and congratulations to him.
Although we can find no cover featuring Black Pirate, he must have appeared in at least 150 stories! His last Golden Age appearance seems to have been in 1948 (in All-American Comics #102), but he showed up thirty years later in Justice League of America #160 (Nov. 1978) and in some later limited series. With so many GA appearances, it is of course possible that there's another spanking waiting to be discovered in one of them.