09/15/2017 Update: We've managed to snag some further scans of the spanking scene while Sweetspot has located the original strips together with the surrounding story so we now know why Tip Tucker gave Giddy Jones such a vigorous spanking. (The Boots comic book reprinted her newspaper strip, something we were only able to confirm the past few years as more issues of the book became available to us. Sweetspot had suspected independently that the #7 spanking was not original material and of course his research confirmed that.) Let's begin by looking at close-ups of the three spanking panels: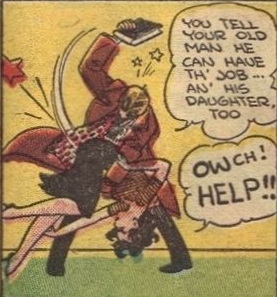 Looking at these new scans, our estimation of the spankings (you could count this scene as one or two because there's a short period in-between when Giddy isn't getting spanked, as we'll see shortly) has gone up - these are fine scenes with good OTK positioning! Even the third, with Tip not properly seated for good support, makes up for it by having Giddy exceptionally far turned over, thus raising her bottom high. The expressions and dialogue are also good, especially the look on Giddy's face in the first one as Tip warms her bottom with a book. There are of course some problems:
Giddy is wearing black, the color which best obscures the contours of the buttocks. Can we pass a law making it illegal for spankees to wear black?
Tip uses a book as a spanking implement - a pretty crazy choice from the standpoint of utility, although as we'll see later there was a logical reason.
This first one, nice as it is, has three obvious continuity problesm: both Giddy and Tip are dressed differently than in #2, Tip is spanking with his left hand, and the couch fabric has a different flower pattern! Presumably a house artist was brought in to create this panel since it's drawn in a different style than Edgar Martin's and that would explain (sort of) the discontinuities.
Now let's take a look at the original strips which we now know appeared nine years before, in 1940. Jealous of Boots, Giddy Jones puts a tack under her saddle, but it's Pug (who was adopted into the family by Boots when her father disappeared) who's thrown instead of Boots, and she's injured by the fall. It was a nasty trick, and Giddy deserved the hard spanking Tip Tucker gave her!
These nice-quality scans are all from Sweetspot. Here are some of his comments:
"Giddy is out of the story and evidently the strip as of January 24th. Tip does not return to the strip until a week into February to let Boots know that he's through with Giddy for good. Boots, in turn, lets Tip know that she and her family are headed to the South Seas for a little vacation paid by Pug's dad. "