The remaining three spankings from Candy all involve Candy herself, which is fortunate because she makes a very good spankee - certainly better than Effie Gissel did last time. Here is the best of the three, from Candy #3 (Spring, 1948). It has appeared only once before, on SpankingPanels, who were the first to discover it (while we were still wasting our time trying to find spankings in Bulletman).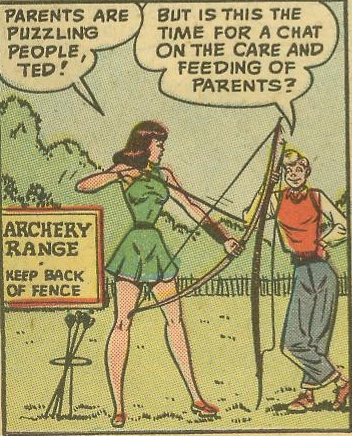 Our spankee-to-be, Candy O'Connor. Published by Quality. Posted by the Web-Ed on 11/12/2010.
Let's meet our spankee, Candy O'Connor. She certainly looks spankable enough, although writer/artist Harry Sahle was remarkably inconsistent, sometimes drawing her as a scrawny teen-ager, sometimes making her more womanly as seen here.
Candy was another teen humor strip inspired by the success of Archie. There were many Archie-imitators over the years, and Candy was probably one of the better ones. (They mostly had two-syllable names like "Archie", as if that were a necessary ingredient for success - no one tried "Joe" or "Zachariah". Sahle also did two others of these, "Ezra" and "Hickory", for Quality, and as a matter of fact did some earlier work for Archie Publications as well). But Archie was an original, something taken from life - Bob Montana based the strip on characters he had known in his own high school days. The imitators all brought us experience at second-hand, as imitators always do (in this case drawing on Archie instead of on life), which is why they never measure up to the original.
Anyway, Candy made a good spankee, though an atypical one. Most spanked women in comics fall into these familiar categories: (1) the bad girl (villainess), (2) the spoiled brat, or (3) the arrogant heiress/socialite/queen. Candy was a little different - she was a sometimes-obnoxious troublemaker whose exceedingly poor judgment and rash actions made her well-deserving of punishment.