Candy was introduced to CSR readers in Candy Spanking #2 during our first comic-strip series back in 2010. But in addition to having her own comic book, Candy was a newspaper strip for a while (1944 - 1950), and CSR Chief Researcher Sweetspot has discovered a spanking of sorts in it. Candy is playing the record of a "hide-beater" (drummer - boy, is that a set-up for a spanking-themed gag) and her father threatens to do a little hide-beating of his own if she doesn't shut off the music and go to bed.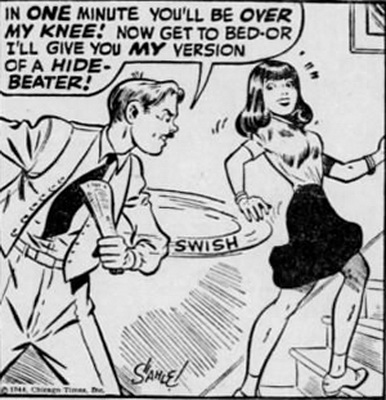 The spanking panel, such as it is. Scan by Sweetspot. © Chicago Times. Posted by the Web-Ed on 03/22/2019.
No OTK positioning, a rolled-up newspaper isn't much of an implement, and it's not even clear that contact with the target area was made, but still it's always good to see Candy in spanking jeopardy.

Are there any more Candy spankings? On the newspaper side, it's always possible but we're not dealing with a great volume of material there (i.e. number of panels). On the comic book side, we've seen all the issues of her own comic and the only things there we haven't yet posted are one after-spanking scene and one post-booting panel which we'll get around to eventually. Candy still might have appeared in some other Quality title that we haven't seen (we think we've gone over all her appearances in Police Comics), but at this point the probability of another spanking must be considered low. A commission of Candy getting spanked by her boyfriend Ted would be nice.