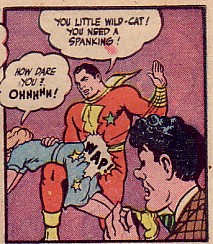 Captain Marvel spanks. © Fawcett Publications. Posted by the Web-Ed on 06/18/2010.
With this third entry in our series of Marvel Family Spankings, we finally reach an example that's M/F. We think it was worth waiting for, though, since the positioning (variant OTK) is pretty good and Captain Marvel is pretty determined! Looks like the world's mightiest mortal knows how to deliver a good spanking!
[09/10/2010 Update] When we first posted this, we had no idea where it came from. Then we found it in literally the last place we thought to look for it - a 1945 Wheaties giveaway package! Apparently, there were special packages bundling two boxes of Wheaties cereal together offered for sale in grocery stores, probably with this comic visible under plastic wrapping. This was a special comic book created especially for this purpose and not just leftover copies of Captain Marvel Adventures from the newsstands. Now let's take a closer look at this story and what led up to the spanking.