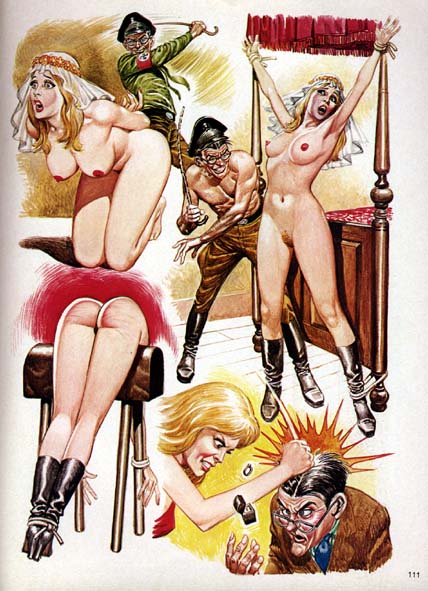 Art by Don Lawrence. Posted by the Web-Ed on 11/25/2011.
Some years ago we introduced CSR readers to Mayfair magazine's strip Carrie with the first of Carrie's spankings, in which she's a teacher caned by the headmaster. This was probably Carrie's best caning, but by no means her only one, and we'd like to present a series now of her other seven spanking scenes.
In this second episode from Mayfair Vol. 10 #3 (March 1975), Carrie has received a marriage proposal from a well-to-do gentleman. In her mind, she pictures what her life with him would be like. For some reason, she imagines him as a sadistic pervert (not a nice-guy spanko like us) who whips and canes her. In the last panel, she clobbers her suitor, and the engagement is off.
As you can see, Carrie's plots haven't become any more richer or sophisticated in the two and a half years since her first caning. We dislike whipping and loathe Nazi regalia, but we do find her pose over a spanking horse to receive the cane rather appealing.