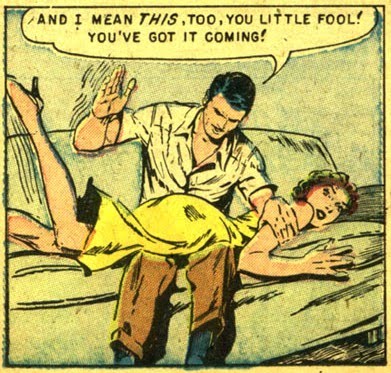 Another version of the spanking panel.
Here is another version of the spanking panel that we found floating around the net some time ago. It was unidentified, both as to source and to content, so we don't know whom to credit. Sometimes the possessors of spanking comics seem a little too reticent for either their good or ours. They deserve credit for their discoveries, and at the same time, we deserve to know the publication details of any comic-book spankings they choose to post on the net. It took us some time to identify this panel as originating from Intimate Confessions #7.
Although she's kicking a little, Connie's facial expression indicates that she accepts her punishment as just. In doing so, she's finally begun to accept responsibility for her actions and is on the road to maturity at last. Taking into account motivation, positioning, panel size, and the positive outcome, this is a good example of Golden Age romance comic spanking.