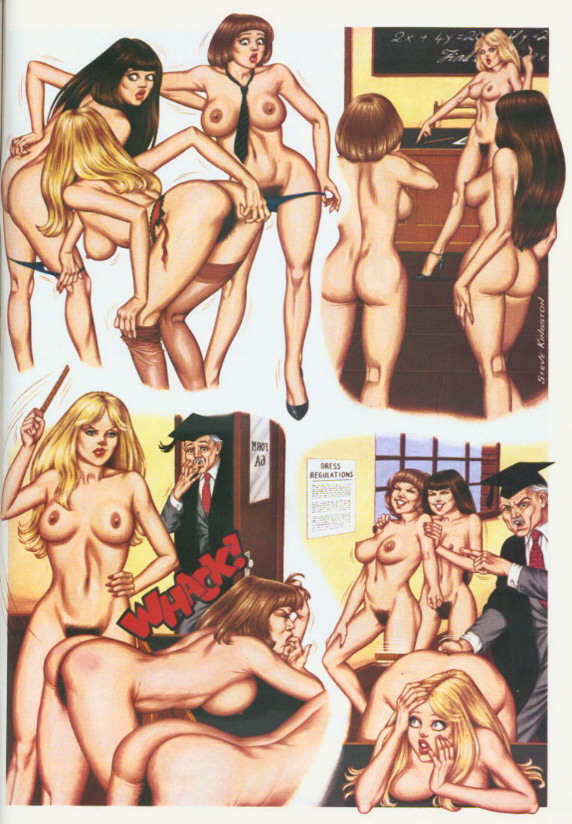 Carrie gives and receives the ruler. From Mayfair (October 1980). Art by Steve Kingston. Posted by the Web-Ed on 12/30/2011.
It took almost a year and a half before Carrie's next spanking in October 1980. Carrie has become a teacher once again, but this time it's her female pupils that cause her trouble. Having introduced some itching powder into Carrie's clothes as a prank, they somehow lose their own at the same time Carrie is forced to shed hers. Carrie quite properly decides corporal punishment is in order, but unfortunately uses a ruler instead of a senior cane - these two bad girls deserved 12 of the very best each! And when the headmaster sees what's going on, it's Carrie who must bend over the desk to receive the ruler herself. How do these things always seem to happen to her?
Overall, this is a good Carrie spanking episode, with one F/FF and one M/F scene each, although we wish artist Steve Kingston had had more space to dwell on the two ruler-spankings. Also, we'd like to have seen the stripes on Carrie's bottom after the headmaster was finished with her. Finally, we hate to see the two girl culprits laughing at Carrie - they got off much too easily. Twelve of the best with the senior cane would have wiped those grins off their faces quickly enough!