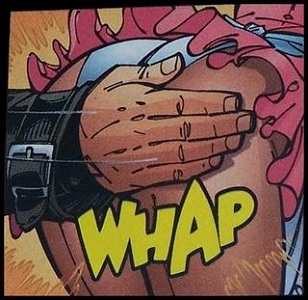 Posted by the Web-Ed on 04/20/2012.
When we first saw this "spanking" panel (it's really only a bending-over butt slap, but it counts) at Spanking Blog, a commenter's mention of "Danger Girl" was the only clue we had as to whose butt it was. After some diligent research, we decided the endangered Danger Girl derriere belonged to Abbey Chase (right). One look at the way Abbey is drawn pretty much tells you all you need to know about this strip, which has had a varied publishing history mostly as a number of mini-series.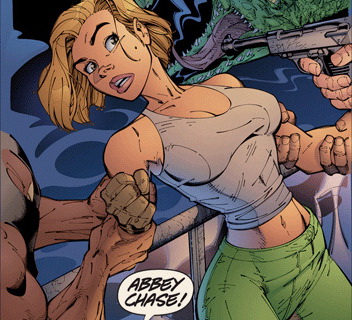 Abbey Chase, one of the Danger Girls. © J. Scott Campbell.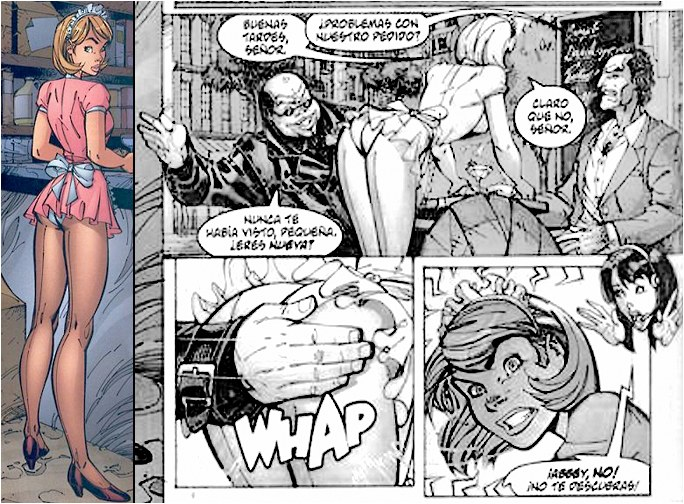 © J. Scott Campbell.
Next, we managed to find an amalgam of one color panel plus a black & white sequence from a Spanish language version. While undercover as a waitress, Abbey bends over and some crude guy can't resist giving her a swat.
Danger Girl seems to be like The Man from UNCLE in that it may not have been anticipated that there would be multiple protagonists when the title was chosen. Abbey seems to have joined the team with this issue just as the character of Ilya Kuryakin was added to UNCLE after the original concept was worked out, joining the original "Man," Napoleon Solo, who didn't go solo after all. There are several Danger Girls but this is the only spanking any of them received as far as we know. Plot and pencils by J. Scott Campbell, script by Andy Hartnell, inks by Alex Garner.
Finally, we found an all-color page over at Comic Vine. We believe this sequence is taken from the story "Dangerously Yours" in Danger Girl #1 (March 1998, published by Image Comics), but we don't have the issue, and honestly, we're probably not going to expend any more time or money trying to confirm this. Abbey and the other girls are certainly spankable, so it's a pity that the OTK position was not used here. Danger Girl is a combination of simple action-adventure plots with sexy girls - exactly the type of comic that would be improved by adding some spanking!