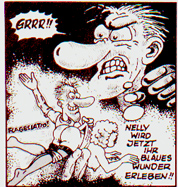 Posted by the Web-Ed on 03/09/2012.
We certainly don't post everything that comes our way, believing that in general quality is more important than quantity, and we almost didn't post this one - it's unidentified except for the label "Day Four", it's of low resolution, and the art, while reminiscent of Robert Crumb, isn't particularly good. But as we studied the panel more, we saw that it wasn't without its virtues: it's apparently from a comic strip of some kind, the OTK position is more than fair, and the spankee's somewhat-exaggerated bottom makes a fine target for the spanker.
As we mentioned, the style reminds us of Crumb, and is certainly "American" to the extent that there is a recognizable American style in comics art. Our attempt to translate the German runs as follows:
"Nelly is now experiencing a sore bottom."
And that appears to be just what our spanker (he of the long proboscis) intended!