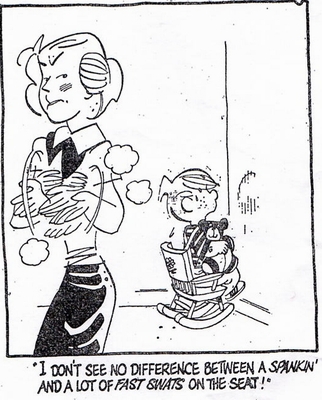 Copyright © 1974 by The Hall Syndicate, Inc.
Copyright © 1976 by CBS Publications, The Consumer Publishing Division of CBS Inc.
We have remarked many times that the frequent representation of spankings in popular media such as comics serves to indicate that this form of discipline was widely practiced and accepted at the time of publication, although it is probably now on the wane. Here is another example from the 70's: Dennis the Menace finds out the hard way that in fact, there isn't much difference after all between a spanking and "a lot of fast swats on the seat". Miss Sweet Tooth, who sent this to us, is going to find out the same thing herself when we see her next. She is long overdue for a lot of fast swats on the seat (with the paddle) for eating too much junk food.
Note: we generally do not display the spanking of children on this site, with the exception of super-tot (who can't actually be spanked) and this one of Dennis in which the spanking isn't actually depicted.