We begin now a mini-series of three spankings from Dr. Bobbs. Completely forgotten today, Dr. Bobbs (1940-49) actually preceded the strip version of Dr. Kildare in 1962, but young Dr. Kildare had been doctoring in the movies since 1938 so his character has primacy. (The 24-year delay in the Kildare strip is explained, sort of, by the fact that it was based on the T.V. series starring Richard Chamberlain rather than the movies with Lew Ayres). No spankings are known in Kildare, although CSR Chief Strip Researcher Sweetspot did find a spanking threat in the strip as well as the actual spanking in Dr. Bobbs we're going to see now.
This episode occurs in early 1949, near the end of the strip's run. Dr. Bobbs encounters spoiled brat Melly Blunt on a train, and after she accuses him of intentionally tripping her and hits him in the head with her purse, he's had enough: OTK she goes!

Dr. Bobbs encounters Melly Blunt on January 24, 1949. Script by Elliott Caplin and art by Jim McArdle. © King Features Syndicate.

Dr. Bobbs spanks the bratty Melly Blunt on January 27, 1949. © King Features Syndicate.

The Jan. 28, 1949 strip: Melly definitely did not learn a lesson from her spanking - she's as bratty as ever, which will have consequences for her later. Scans by Sweetspot. Posted by the Web-Ed on 03/30/2018. © King Features Syndicate.
Uncle Ben arrives at the train station to pick up Bobbs, who leaves Melly sitting on the ground - probably a little gingerly! She's still making demands, however, and we must conclude that she wasn't spanked nearly enough. As it happens, young Dr. Bobbs eventually reaches the same conclusion as we'll see next time.
The script here is by Al Capp's brother Elliott Caplin, who had a long and successful career writing comic strips including Abbie & Slats (which Al had created) and Big Ben Bolt. Since there were numerous spankings in these strips, it should be no surprise that Caplin wrote several for Dr. Bobbs. Indeed, it makes us wonder if there were any spankings in his other strips such as Long Sam and The Heart of Juliet Jones.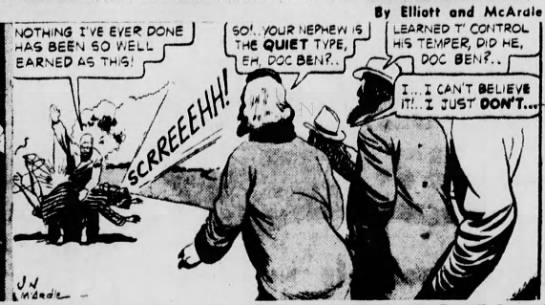 The spanking panel. © King Features Syndicate.
The problem with the spanking panel is its composition: because the foreground is occupied by four figures, the spanking is relegated to a distance shot. Now, even a non-spanko should realize that a spanking is always the most interesting thing going on in a panel, and therefore deserves the most emphasis. Four people just walking along can never compare with the excitement of a spanking! We're tempted to blame artist Jim McArdle, but despite our bias in favor of Caplin for having written so many spankings it is probable the fault here lies with him unless he specified two panels (one with the people walking and the other with the spanking) instead of one and McArdle changed it.