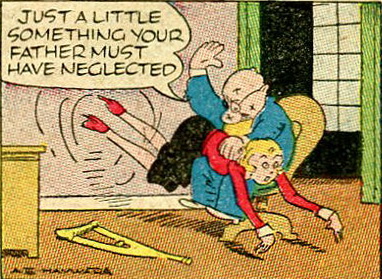 The boss, Sam Smithers, spanks his stenographer, Miss Cam O'Flage.
Secretary Spanking is hardly a novelty here at CSR - in fact, it's more like an institution - even though it's extremely rare in the real world these days because of the threat of sexual harassment lawsuits. But we have always believed that especially before World War II workplace spankings really did take place, and therefore it should be no surprise to find an example in one of the many early comic strips that focused on women in the workplace, in this case A. E. Hayward's Somebody's Stenog.
The rationale for the spanking is less solid than we're used to where secretaries are concerned (bad spelling, etc.): Miss Cam O'Flage tries to get all the people her boss Smithers has assaulted to settle with him out of court. She gets them to agree, and they settle with him, all right - they all beat him up! When the battered Smithers returns to the office, he gives Miss O'Flage "something her father must have neglected" - a good spanking! Nice OTK positioning and startled expression on Miss O'Flage's face.
This is another of our original discoveries. We do not know the date it first appeared, but it must have been some time between December 1918 when the strip began and November 1938, when it was reprinted in Famous Funnies #52. As it happens, we checked Famous Funnies #60 first as part of our ongoing Golden Age spanking search, and that's where we discovered it. We were then surprised several months later to find exactly the same strip eight issues earlier in #52, and we still don't understand why it was reprinted twice so close together in time - we can only conjecture that it was due to an error, since Famous Funnies just reprinted comic strips, and somebody got the dates mixed up. It could not have been a case of running out of strips to reprint because Somebody's Stenog ran until 1941, two years after Famous Funnies #60, so fresh material was still available.
Famous Funnies is actually sometime considered to be the first comic book, although it isn't really. It was perhaps the first book formatted the way that would eventually become familiar in comics' Golden Age, with 64 pages between two glossy covers. It was the brainchild of Maxwell Charles Gaines, one of the more important names in comics publishing and the father of William Maxwell Gaines, who took over as publisher of EC Comics when his father was killed in a boating accident. As an interesting side note, Wonder Woman's creator took his pen name from a combination of his given name, William Moulton Marston, with that of his friend Maxwell Charles Gaines, which together gave him Charles Moulton.
Because of the vast amount of strip material it reprinted over the years, Famous Funnies has yielded 14 spankings (so far)! Let's take a look now at the complete page of Somebody's Stenog.