This is a rather long story at 10 pages, so even though we're only going to bring you 6 pages of it we'd better show the spanking panel straight away. Basically, our spanker Ace Carter has more than enough justification to give spankee Fatima a good, long OTK disciplinary spanking, but he only gets in one swat using a rifle butt as an improvised paddle. It's hard to explain Fatima bending over as far as she is as anything but compositional convenience on the part of the artist, but since we like to see the spankee well bent over, we're not complaining.

Butt-to-butt contact as Ace Carter uses his rifle butt to paddle bad girl Fatima. Art by Frank Bolle and Leonard Starr. From the collection of and art identified by JVJ. Posted by the Web-Ed on 04/18/2014.
This is another of our original discoveries, being revealed here on CSR for the first time anywhere. Soldiers of Fortune is a relatively obscure title and somewhat rare to the best of our knowledge - very little is known about two of its twelve issues (this is one of the other ten). It was published by American Comics Group, a small publisher which up to now had supplied only two known spankings, both in the Cookie strip of Cookie getting the hairbrush from his father - not exactly class-A material. The strip of interest here is Ace Carter Adventurer, and it somewhat resembles "The Diamond of Death" in The Saint #5 in its rugged, unflappable hero, valuable jewelry, and exotic locale. And like that famous spanking comic, there is some uncertainty about the art. JVJ, from whose fabulous collection these scans were taken, believes that Leonard Starr did the inks over Frank Bolle's pencils (Bolle did the recently-posted Lovers' Lane #29). We're not sure - we see the resemblance to Bolle's style, but we also see some differences, for example in the characters' eyebrows, so either Starr's inks tend to overwhelm the pencils or else he did them himself, as some have suspected.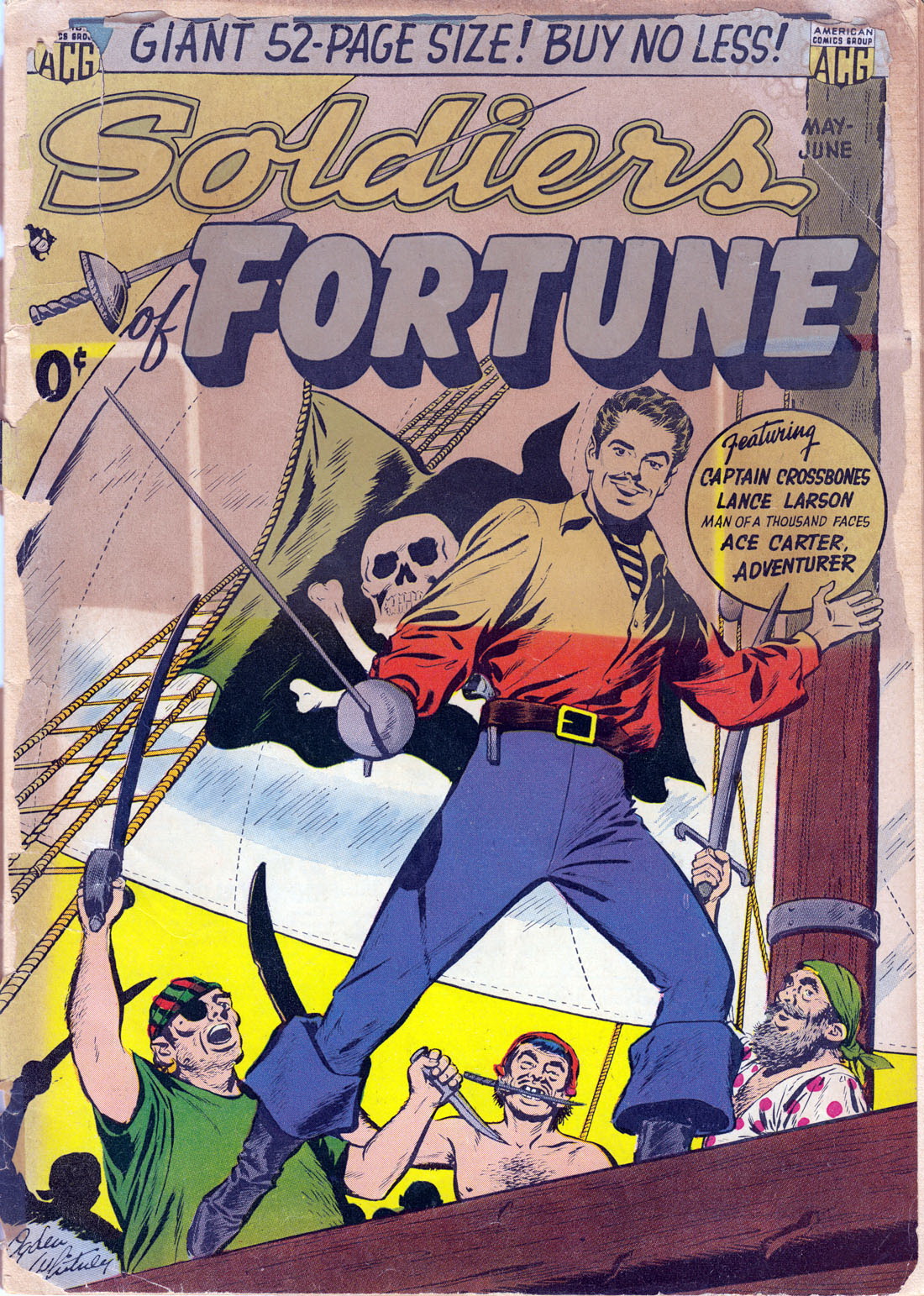 Soldiers of Fortune #2 (May-June 1951). Cover art by Ogden Whitney. Published by American Comics Group (click to double-size).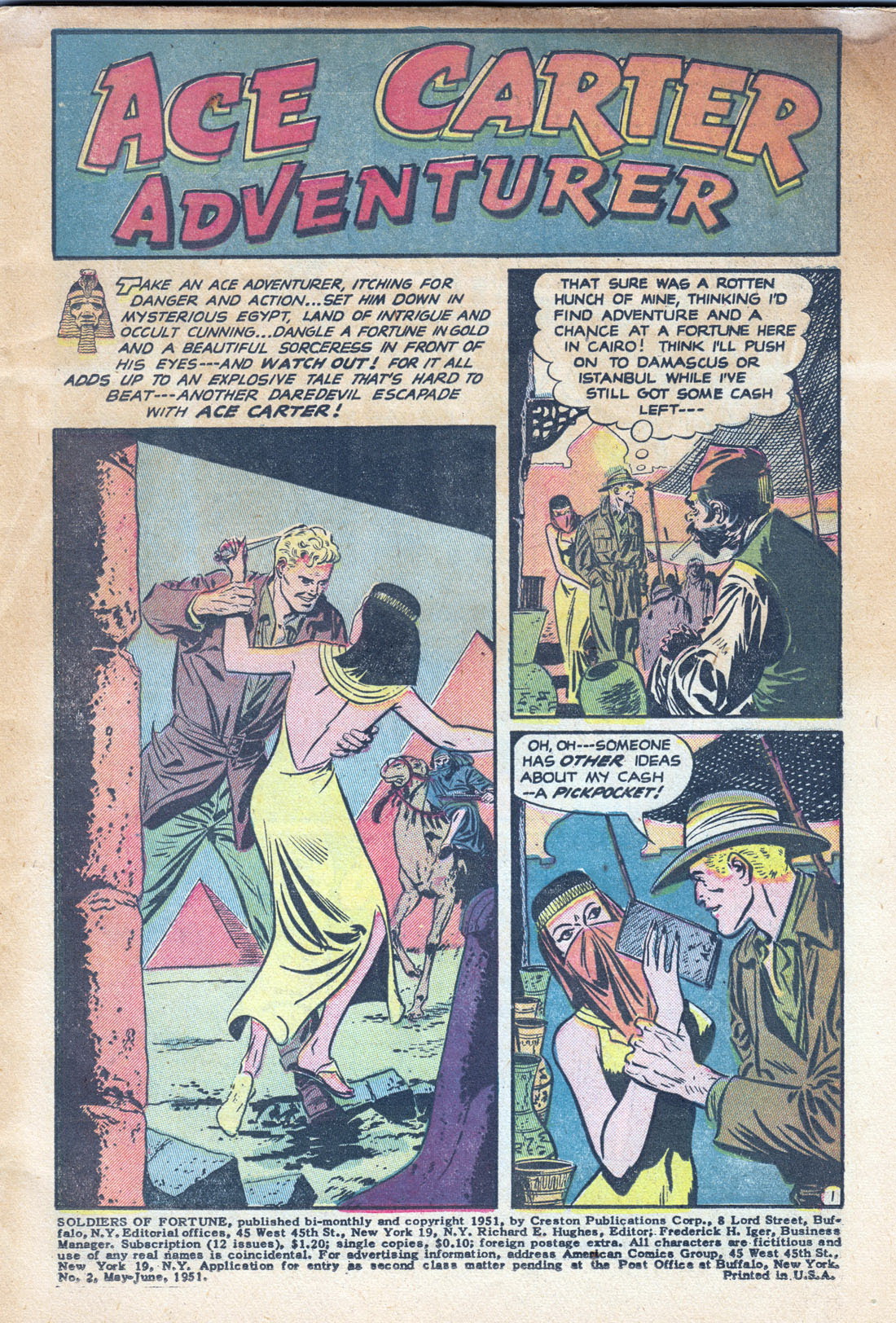 Page 1 of Ace Carter (click to double-size). Bad girl and spankee-to-be Fatima gets off to a bad start with Ace by stealing his wallet.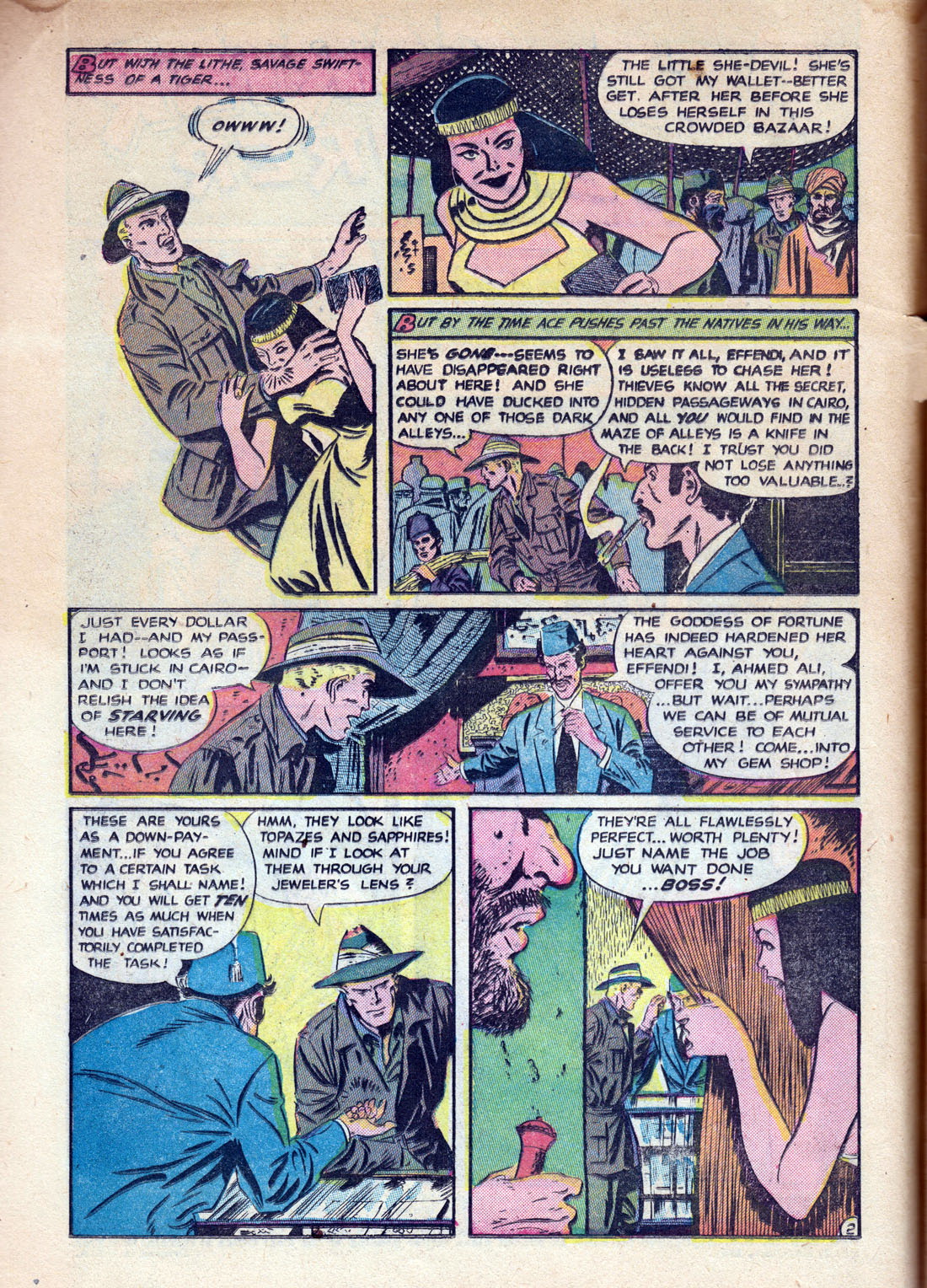 Page 2 of Ace Carter (click to double-size). Maybe Ace would have spanked Fatima right then, but he couldn't catch her. It turns out to all have been part of a plot to lure him into the jeweler's shop so he could be enlisted into doing some work for Fatima and Ahmed Ali, who pretends to be the owner.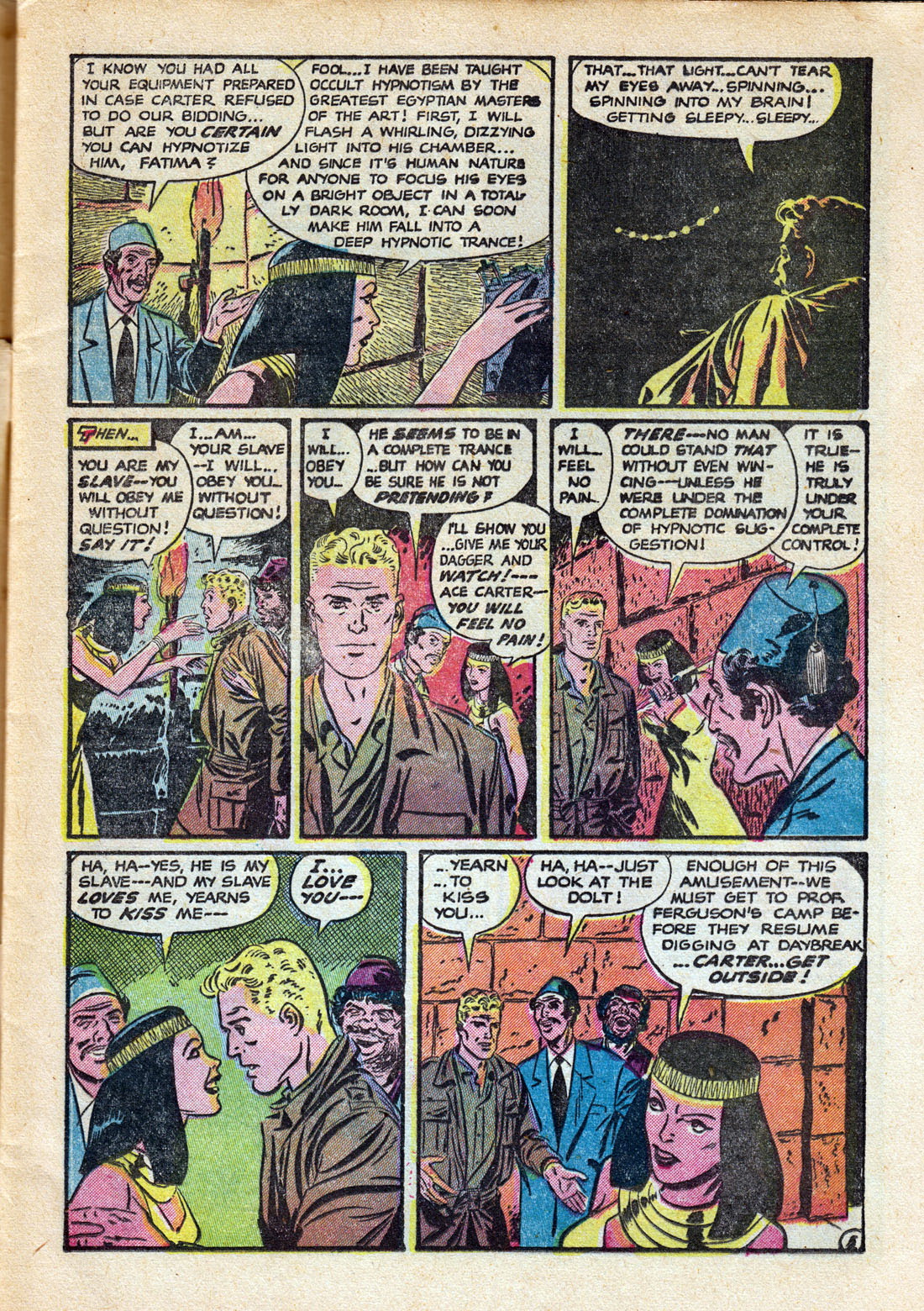 Page 5 of Ace Carter (click to double-size). Fatima hypnotizes Carter and suggests analgesia, testing him by poking him with a knife and running up a bigger bill of spankable offenses!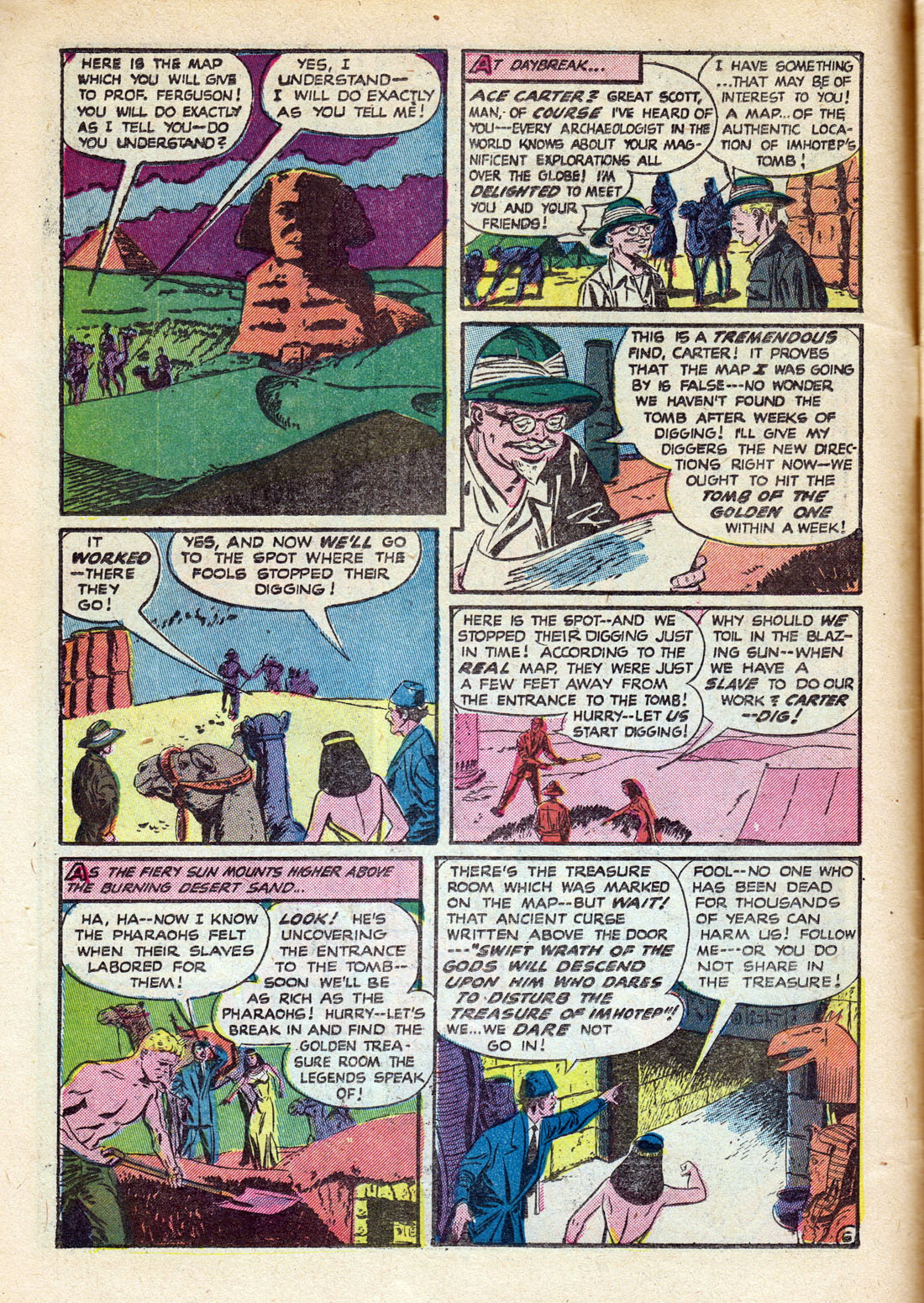 Page 6 of Ace Carter (click to double-size). Ace gives Professor Ferguson, who is close to discovering a new tomb, Fatima's false map which will send him off digging in the wrong direction. With the Professor out of the way, Fatima makes Ace dig down to the tomb.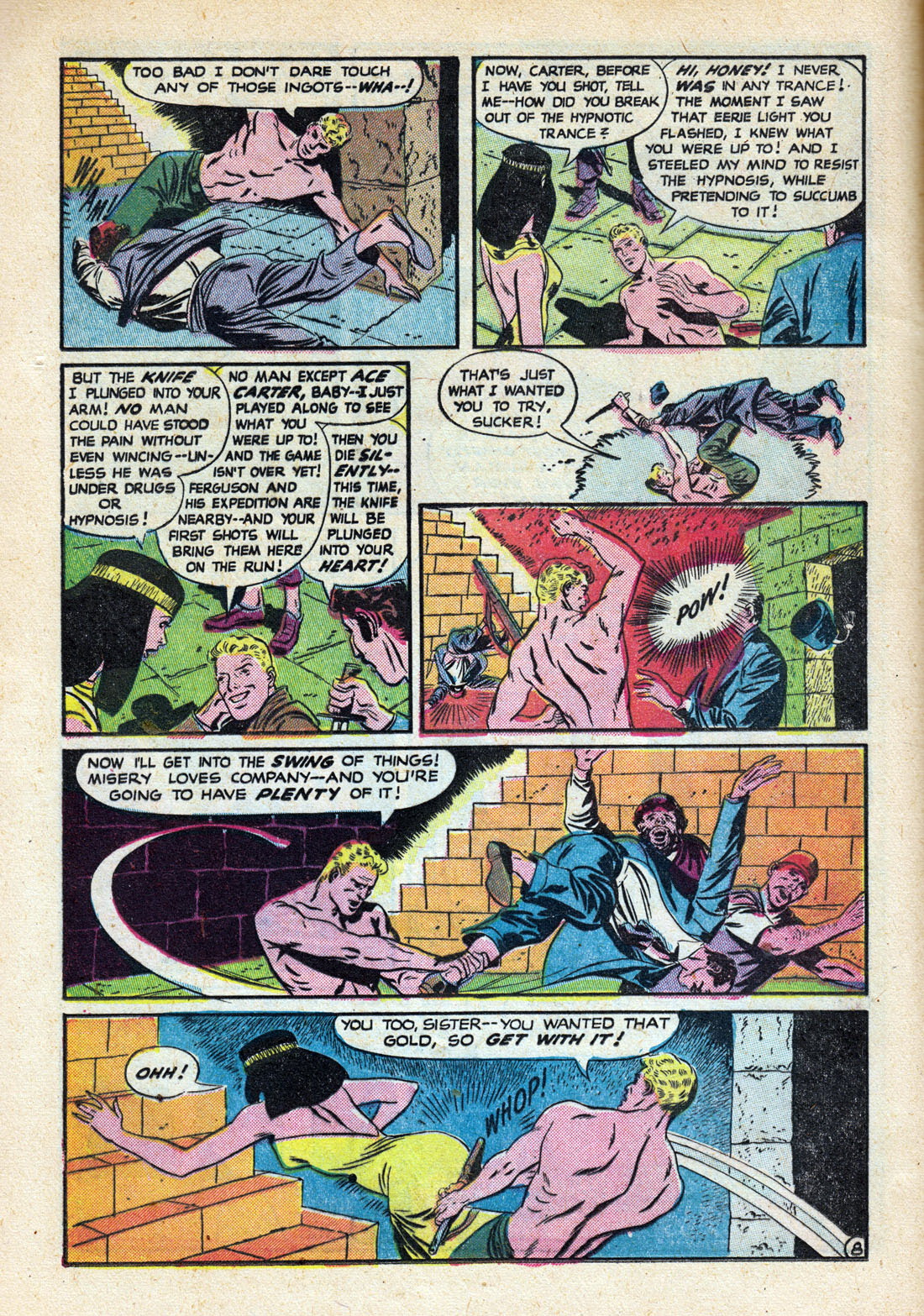 Page 8 of Ace Carter (click to double-size). Ace digs down to the tomb, reveals he never was under Fatima's hypnotic influence, waltzes around with her gang, and then gives her one swat out of the many she deserved.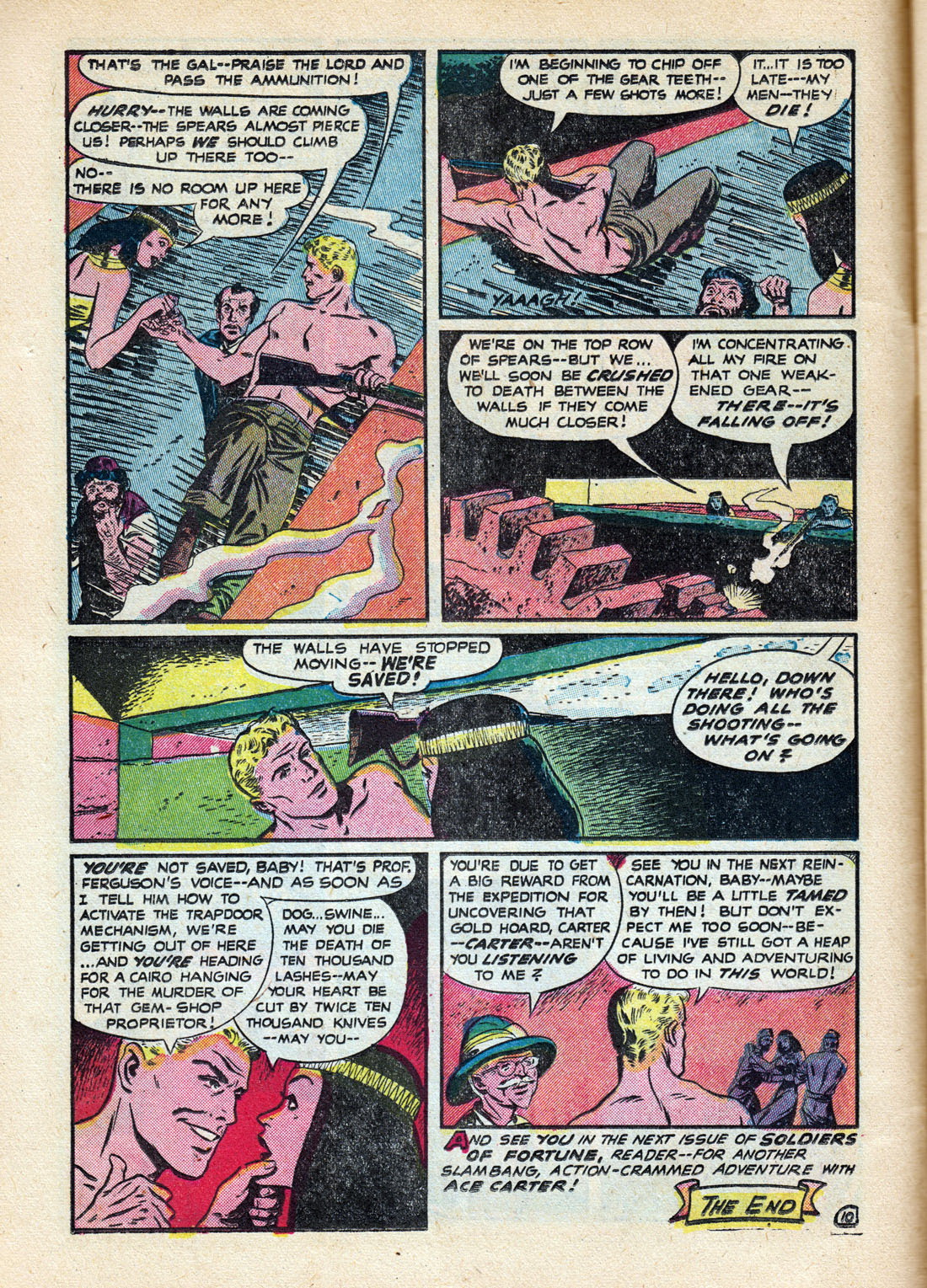 Page 10 of Ace Carter (click to double-size). During the fight, a secret switch is tripped that causes the walls to start closing in on them. Ace and Fatima climb to the top of one wall and Ace keeps shooting at one gear until he breaks the mechanism. But it's too late to help Fatima's gang, and Ace isn't too sentimental about Fatima herself when he cheerily sends her off to Cairo to be hanged for murder. We'd have let her off with an 18-stroke bare-bottom caning ourselves.