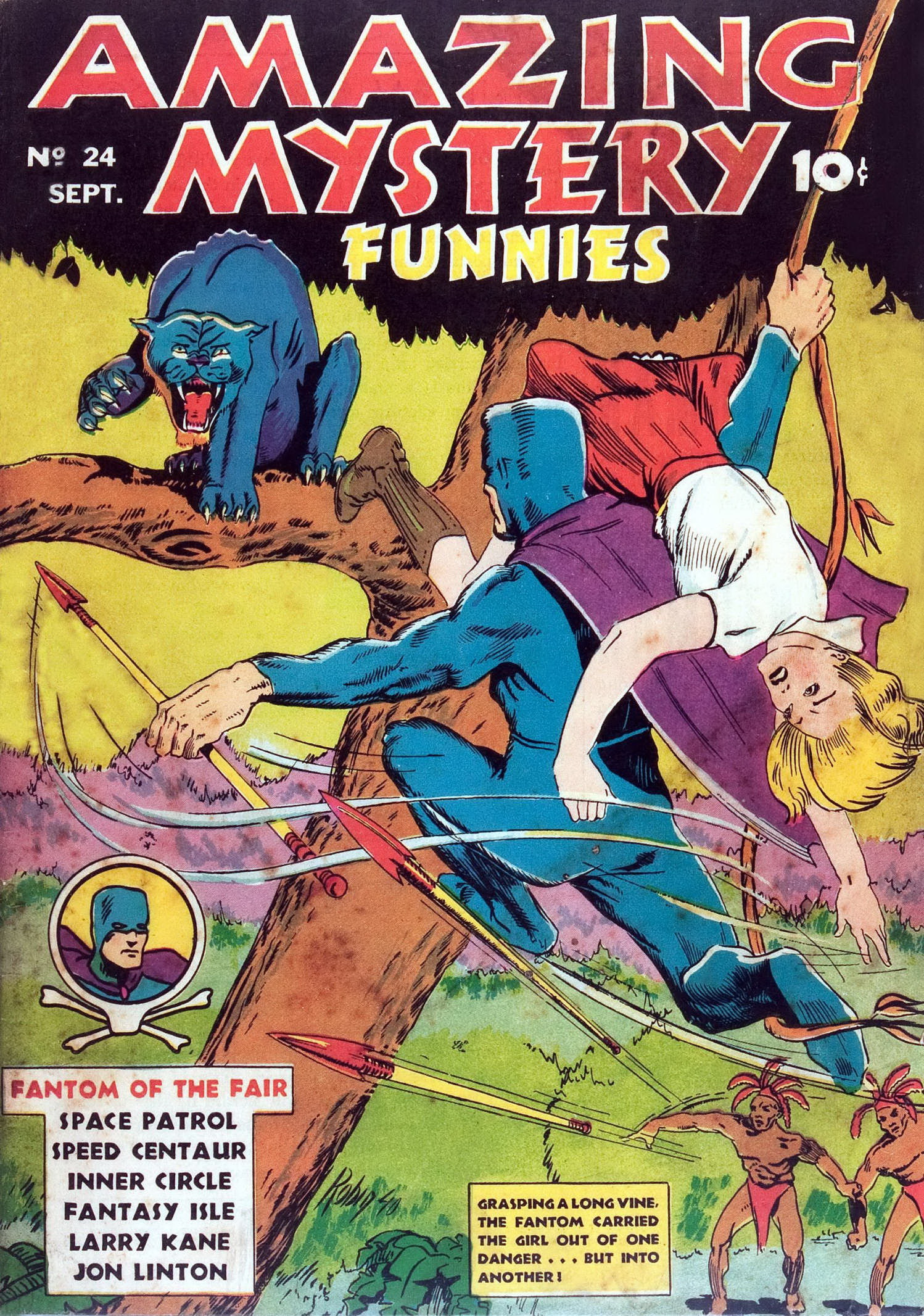 Amazing Mystery Funnies #24 (September 1940). Artist unknown. Published by Centaur. Posted by the Web-Ed on 04/04/2014 (click to quadruple in size).
Early comics tended to be drawn in a very simple style, and that is certainly true of Amazing Mystery Funnies #24 (September 1940). The cover, seen at left, is an exception - the unknown artist used a fair number of fine lines. But the story we're interested in follows that general rule, a simple style to go with a simple story. Lieutenant Lank seems to be a dystopian series set in a place that looks a lot like some small contemporary (1940) European country, with Queen Ursula apparently waging a war of aggression. Lieutenant Lank is the hero of the opposition, who are never named.
Eventually the two meet face-to-face, and Queen Ursula finds herself attracted to Lank. Fortunately, he's a hero who doesn't let anything distract him from his business, and when Ursula says that she gets what she wants, that's a cue for Lank to take her OTK, which he does!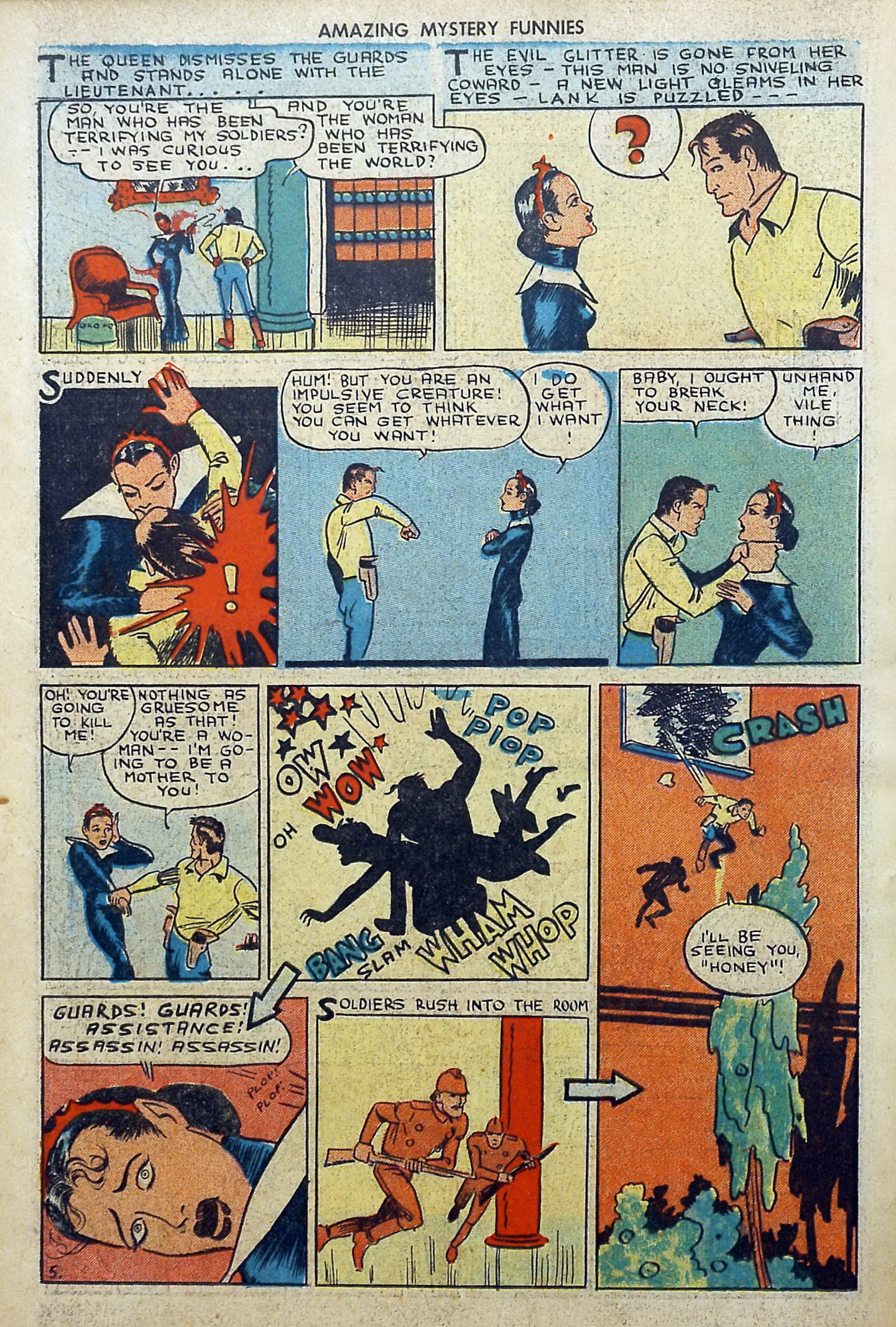 Queen Ursula gets a good spanking, and Lank makes good his escape! This is another example of a comeuppance spanking, where the spoiled and arrogant highborn female gets taken down a peg by a male hero. Note that by the time this comic was published, the comics medium had already seen the spankings of an Amazon Queen by Stuart Taylor (in July, just months earlier) and Princess Tania by Superman (1939). The classic spankings of Queen Pera (1946), Queen Arda (1946), and Queen Viper (1949) were yet to come.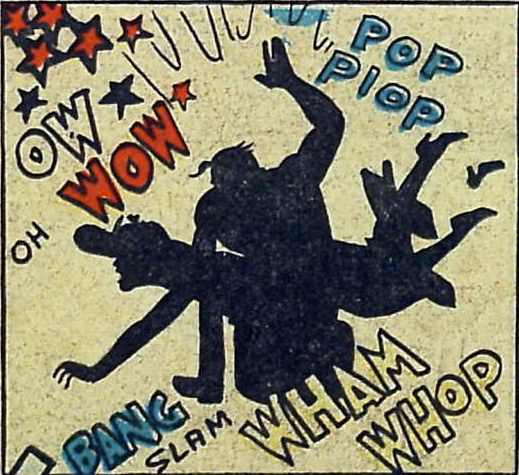 A variety of strange exclamations and sound-effects as Queen Ursula get her royal rump roasted by Lt. Lank!
A close-up of the spanking panel. We get OTK positioning and a flying shoe, but for some reason Lauretta chose to do the scene in blackout, cheating us of many details. Usually, blackout panels would appear in daily strips where the artist was so far behind he had no choice but to cheat a little. We don't know the exact circumstances here, and it's possible that Lauretta blacked it out to draw a sort of curtain of decency over the scene - if so, it would be an interesting admission of the erotic potential in depicting a M/F OTK spanking - but either way, it's a great pity.
Apparently "pain stars" were already an accepted cartoon shorthand, for they appear here along with an unusual exclamation ("Oh, Wow!") and a variety of sound effects: "Bang Slam Whap Whop Pop Plop". "Plop"? We've never heard a spanking sound like that. And if a spankee says "Oh, Wow!" instead of "Yeeoww!" we think it means she's impressed on some level.