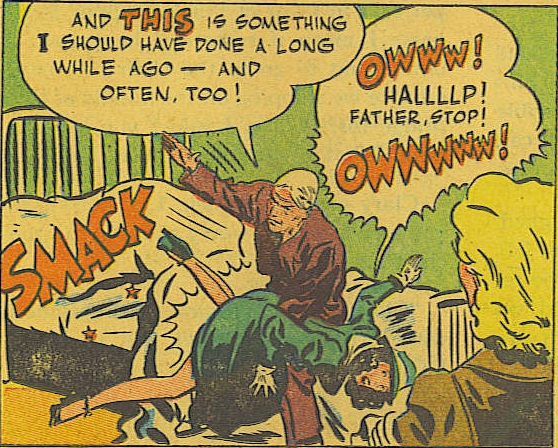 Wetmoss Wentworth spanks his daughter Eloise, from Green Hornet #36 (October-November 1947). Published by Harvey Publications. Posted by the Web-Ed on 01/28/2011.
Now for the second of the two M/F spankings from Green Hornet, this time in the Calamity Jane strip (the first was Winnie the Waitress). This is a rather odd title for a female private eye series, since most people would associate the name "Calamity Jane" with westerns. It's not Calamity Jane herself who gets spanked, but rather spoiled heiress Eloise Wentworth. We don't waste our time envying the wealthy, but neither do we mind seeing the high-born and well-to-do taken down a peg, provided they deserve it based on their behavior rather than their social standing, as Eloise certainly does here. As her father says, "This is something I should have done a long while ago - and often, too!"
Bill Plaut appears in the story himself as the artist the tale was told to, so presumably he wrote the script as well. We don't know if he ever did any other spankings, but with two others already known in Green Hornet and the possibility of more, we have to wonder if he might have had a "hand" in them.