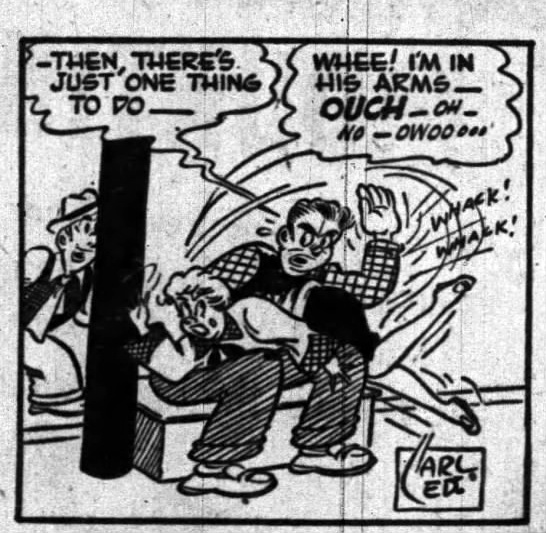 The spanking panel. Scan by Sweetspot. © Chicago Tribune Syndicate.
We don't have the whole story behind the second spanking from Harold Teen, but it doesn't appear to be necessary to understand what's going on, so let's take a look at the spanking panel and then the next day's strip.
As with the first spanking, we see good OTK positioning with some leg kicking. We don't like the black skirt: as we have complained many times, black is the absolute worst color for the spankee to be wearing because it doesn't allow us to see the contours of the buttocks.
As it turns out, the spankee is the police chief's daughter! Let's see what happened next.
Harold is worried about how the Chief will react, but in a scene that is very reminiscent of the Smilin' Jack / Joy Beaverduck spanking, the Chief is delighted that someone has provided a very necessary service.
This is another of Sweetspot's many discoveries. He actually introduced it on the CSR Forum, but like all genuine comics spankings, it needs to be here in this gallery as well.